Teamsters Strike Chedraui/Smart & Final Over Unfair Labor Practices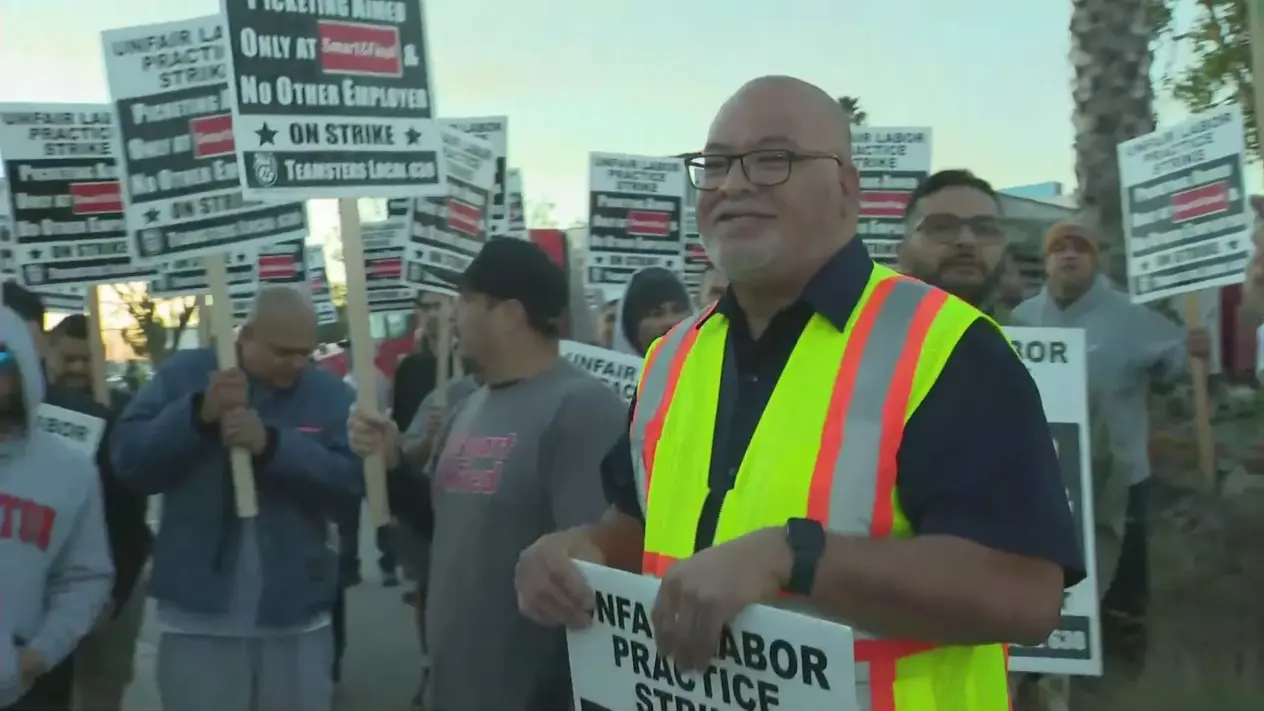 Southern California Warehouse Workers Demand Company Negotiate in Good Faith, Protect American Jobs
Press Contact: Oscar Ruiz Phone: (213) 590-7119 Email: oscar@teamsters630.org
(LOS ANGELES) — Teamsters Local 630 members who work at two Chedraui-owned Smart & Final grocery store warehouses in Southern California went on strike today to protest unfair labor practices and demand the company negotiate in good faith.
"We decided to strike because Chedraui/Smart & Final refuses to take bargaining seriously. We are fighting back to save our jobs," said Bobby Perez, a 29-year veteran at Smart & Final and Local 630 member. "We are the ones who made this company a success, but they treat us with nothing but disrespect. We will strike as long as it takes for the company to get back to the table and give us the contract we deserve."
More than 600 workers at Smart & Final warehouses in Commerce and Riverside, Calif., voted to organize with the Teamsters earlier this year. In both elections, workers overcame a vicious anti-union campaign from management to win strong representation with Local 630.
After organizing, the company announced plans to fire the warehouse workers and force them to re-apply for jobs at a new consolidated warehouse in Rancho Cucamonga, Calif. The Teamsters are demanding their jobs be guaranteed under a fair union contract while fighting plans by Chedraui USA – the U.S. subsidiary of the Mexican grocery giant Grupo Chedraui – to close the two unionized Smart & Final warehouses in Commerce and Riverside.
"These determined workers knew the time had come to withhold their labor and hit the streets. Teamsters won't stand for bad faith bargaining. We fight back in the face of injustice, and we won't back down until this company meets our demands," said Lou Villalvazo, Secretary-Treasurer of Local 630 in Los Angeles. "Chedraui must protect American jobs and negotiate a fair first contract that will provide our members with what they deserve."
The Teamsters have filed seven unfair labor practice (ULP) charges against Chedraui/Smart & Final, alleging violations of federal labor law. The charges include anti-union retaliation regarding facility relocations and employee terminations, interference with workers' right to organize, and bad-faith surface bargaining.
Smart & Final workers are seeking a first contract that protects jobs and provides consistent standards, better health care, a path to retirement, an end of favoritism, improved safety, and respect on the job.
For more than 80 years, Teamsters Local 630 has represented California workers in warehousing, food services, liquor, food processing, dairy and more industries. Find out more at teamsters630.org.
« Previous
Next »