Workers At Grupo Antolin Join Teamsters in Missouri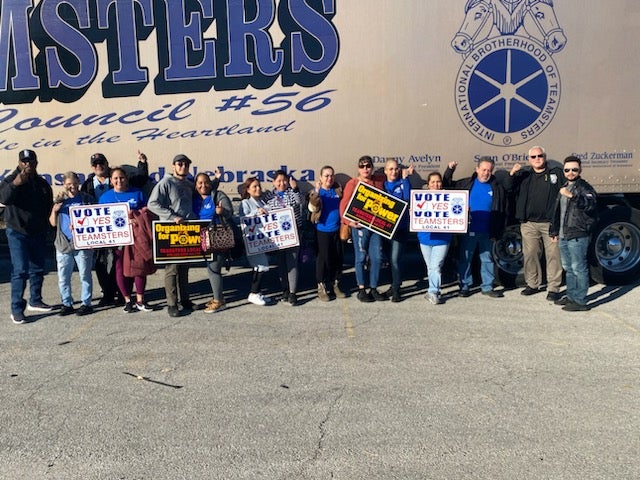 Warehouse Workers Win Representation with Teamsters Local 41
Press Contact: Daniel Moskowitz Phone: (770) 262-4971 Email: dmoskowitz@teamster.org
(KANSAS CITY, Mo.) – More than 200 warehouse workers at Grupo Atolin in Kansas City, Mo., have voted to join Teamsters Local 41. They are seeking higher wages, better benefits, paid time off, seniority rights, and fair work rules.
"We are so happy to be Teamsters and finally have the right to speak out and voice our concerns," said Joel Salazar, a quality auditor who has worked at Grupo Antolin for three years. "My co-workers and I are very close, like a second family. We're all so excited to have won strong representation on the job. This is a big deal to us."
Salazar and his co-workers manufacture, stock, and supply headliners for the automobile industry.
"This is our local's biggest organizing win in 30 years. There's a lot of opportunity for organizing this industry in Kansas City. Word of mouth spreads fast, and we will use all the tools at the local and International to keep it going," said Ralph Stubbs, President of Local 41. "I appreciate everyone who helped on this campaign, but all credit goes to the workers. This campaign started from the grassroots and went on up from there. These workers had the resolve to get it done, and they were not scared to do it."
The Teamsters Organizing Department, Warehouse Division, and Local 41 worked in coordination throughout the organizing campaign.
"Workers at Grupo Antolin knew that the only way to stand up to this company was to fight back and win a union voice. We are thrilled to welcome these workers to the Teamsters and stand with them as they negotiate a first contract," said Tom Erickson, Director of the Teamsters Warehouse Division. "Workers throughout the warehouse industry are standing up, standing together, and demanding their fair share. Organizing momentum grows by the day. Working people in this country are hungry for a union voice."  
Founded in 1903, the International Brotherhood of Teamsters represents 1.3 million hardworking men and women in the U.S., Canada, and Puerto Rico. Visit Teamster.org for more information. Follow us on Twitter @Teamsters and "like" us on Facebook at Facebook.com/teamsters.
« Previous
Next »