Rhode Island Teamsters Endorse Gina Raimondo for Governor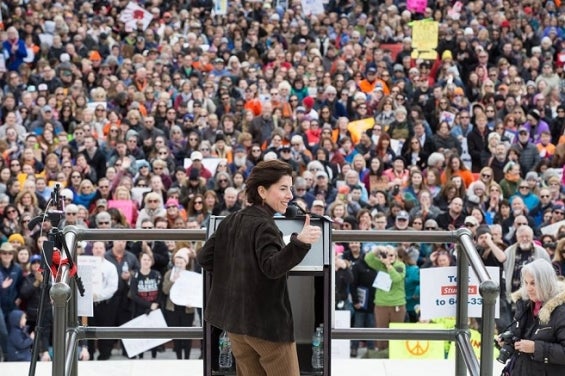 (EAST PROVIDENCE, R.I.) – Ocean State Teamsters announced today they are endorsing Gov. Gina Raimondo for a second term in office, saying she has worked beside the union since taking office in 2015 on numerous issues in the state important to Teamster families.
Raimondo has been a strong supporter of bridge and road infrastructure repair and improvements though the Rhode Island Department of Transportation, resulting in improved safety for driver and more construction jobs. She has also backed a partnership with Teamsters 251 Driving School through the RealJobsRI program for commercial drivers' license Class A training, which addresses the growing demand for qualified commercial drivers.
Beyond that, however, she has repeatedly stood up for workers. Raimondo has prioritized wage and hour law enforcement through the Department of Labor & Training. She has also stood with us in enacting improvements in unemployment insurance benefits for school bus workers facing summer layoffs. Raimondo has also been a strong supporter of the earned sick leave law passed last year, which granted 100,000 Rhode Islanders sick leave they previously were not granted by their employer.
The Governor backs the film credit program in support of middle class jobs in the movie and television industry; supported and approved multiple minimum wage increases; and supports efforts to end discrimination in the workplace.
"We believe Gina Raimondo has earned a chance at a second term to continue her efforts to improve an economy that works for Teamster families," Local 251 Principal Officer Matthew Taibi said.
« Previous
Next »