BMWED Seeks Individual Rail Carrier Bargaining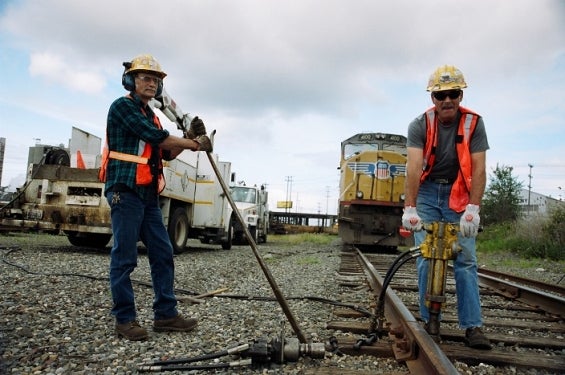 The BMWED has filed suits in federal courts against several Class 1 railroads in an attempt to bargain contracts specific to each individual railroad and its Maintenance of Way employees.
In the recent past, the union and railroads have negotiated under the Railway Labor Act at the "big table" known as National Bargaining. In this upcoming round, the BMWED is asking the courts to enforce our right to bargain our work rules with the individual railroads through representatives of our choosing, separate of the National table. Those railroads include Union Pacific, Norfolk Southern, Canadian National, and Conrail.
Even though Railway Labor Act representation is craft-wide/system-wide for a specific carrier, in recent decades many rail carriers have insisted on bargaining nationally in coalition with the other major railroads. As a result, issues peculiar to BMWED's agreements with specific carriers historically go unaddressed, round after round, at the national table.
Thousands of BMWED members on certain railroads desire to address specific issues peculiar to their agreements with particular carriers. But the Carriers have historically resisted union efforts to bargain on a single carrier, system-wide basis and they have sought to compel national bargaining with a coalition of carriers.
BMWED is the RLA bargaining representative of maintenance of way employees of each carrier on a craft-wide/system-wide basis, and we assert that the Union has a right to bargain on a single carrier system basis with certain carriers when that serves the best interests of our members. BMWED filed lawsuits in anticipation of the carriers again attempting to deny our right to bargain over the members' needs and interests peculiar to each respective carrier system.
"I believe this is an opportunity to strengthen on position at the bargaining table and protect and bolster some key elements of BMWED agreements with respective railroads," BMWED President Freddie N. Simpson said. "Whenever we can get into a room and work individually with railroads to develop a CBA that works to the specific goals and concerns of the employees of that particular railroad, I think that it will go a long way toward improving our members jobs and lives."
Please note that further information regarding national negotiations as they progress will be made available to all BMWED members through various outlets, including our email news alerts, videos from BMWED officers through the BMWED-IBT YouTube channel, all our social media outlets, as well as the BMWED Journal.
If you have any immediate and additional questions, please do not hesitate to contact your respective BMWED system office and officers.
To read the entire article on the BMWED website, click here.
« Previous
Next »