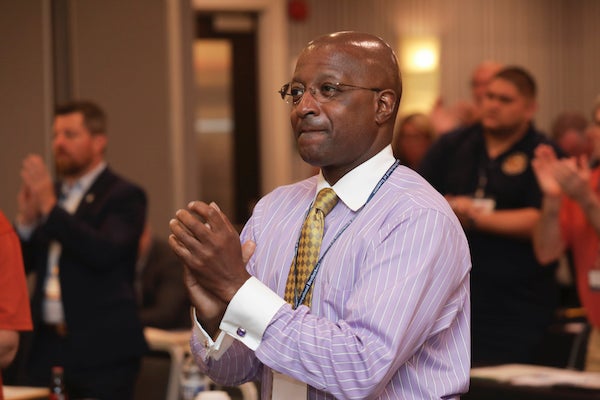 The Teamsters know the current political environment is one that doesn't favor getting policies approved that promote the interests of workers.
So during its 2019 political coordinators' meeting the union pledged to push ahead with an agenda that will ensure electing lawmakers that will stand up for hardworking Americans.
"It's that season again," Teamsters General President Jim Hoffa told those who gathered in the nation's capital for the meeting. "There's a lot going on. I know all of you are involved in your states, in your local unions, everywhere you go. It's about governors' races, it's about rep races, it's about statehouses. Everything comes together, and that's got to be our focus."
He said it is essential for the Teamsters to "shape the debate" so that candidates are talking about the issues that matter to members. But Hoffa said that thus far there hadn't been much talk about them.
"I haven't heard about issues that matter to Teamsters," he said. "We have to start talking about what issues are important to our members and to the working families of America."
'PRO Act'
Thankfully, there are elected officials who share the union's values, several of whom spoke to the Teamsters.
Rep. Frederica Wilson (D-Fla.), for instance, addressed the need to enact labor law reform that would empower the working class. Legislation that would do that, called the PRO Act, was approved by the House Education and Labor Committee earlier this year.
"For generations, unions have fueled our nation's prosperity, protecting the health and safety of American workers," said Wilson, the chairwoman of the House's Health, Employment, Labor and Pensions Subcommittee. "The PRO Act would deter employers from violating workers' rights to form unions."
Rep. Conor Lamb (D-Pa.) said pro-worker candidates and unions need to join together to spread a message that speaks to hardworking Americans so candidates who stick up for them get elected.
"We're with them on the issues. We own those issues," he said, referring to both pensions and health care. "We never would have achieved any of those things without the Democratic Party and organized labor working together."
« Previous
Next »