COVID-19 News Updates for June 18, 2020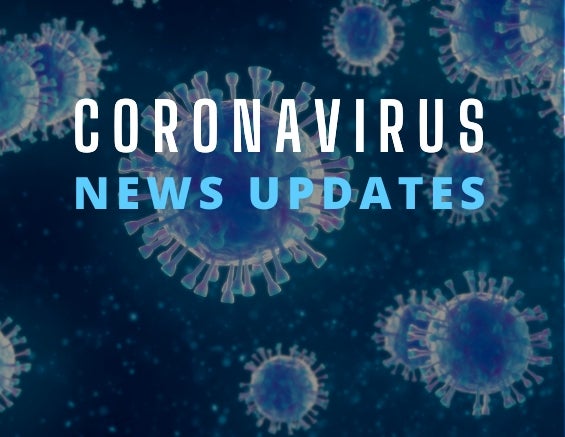 Guidelines for Opening Up America Again
President Trump has unveiled Guidelines for Opening Up America Again, a three-phased approach based on the advice of public health experts. These steps will help state and local officials when reopening their economies, getting people back to work, and continuing to protect American lives. Please click here for more information: Guidelines for Opening Up America Again
· Testing Overview (HERE)
· Testing Blueprint (HERE)
· Guidance for Cleaning and Disinfecting Public Spaces, Workplaces, Businesses, Schools and Homes (HERE)
· CDC guidance for Camps, Child Care Programs, Schools, Mass Transit, Restaurants And Bars, and Workplaces
· CDC Activities and Initiatives Supporting the COVID-19 Response and the President's Plan for Opening America Up Again (HERE)
White House Updates
· Remarks by President Trump During a Roundtable with Governors on the Reopening of America's Small Businesses (REMARKS, VIDEO)
· Remarks by Vice President Pence to Employees at Casadei Steel Inc. on Opening Up America Again | Sterling Heights, MI (REMARKS, VIDEO)
· 1600 Daily: An update on reopening America! (HERE)
· West Wing Reads: Under Donald Trump's Leadership, the US Economy Will Come Back Strong (HERE)
U.S. Department Of Labor Issues OSHA Guidance as Non-Essential Businesses Reopen and Employees Return to Work (HERE)
· The U.S. Department of Labor's Occupational Safety and Health Administration (OSHA) has issued guidance to assist employers reopening non-essential businesses and their employees returning to work during the evolving coronavirus pandemic.
U.S. Department of Labor Offers Spanish Language Webinars on Coronavirus-Related Paid Leave Benefits for Agricultural Employers and Workers (HERE)
· The U.S. Department of Labor will offer two webinars in Spanish for agricultural employers and employees in California about the paid sick and expanded family and medical leave benefits available under the Families First Coronavirus Response Act (FFCRA).
Op-Ed by Commerce Secretary Wilbur L. Ross: Under Donald Trump's Leadership, the U.S. Economy Will Come Back Strong (HERE)
· As the economy gets back to where it was, with record low unemployment for African Americans, Hispanics, women and the disabled, and with more rapid increases in non-supervisory pay, Americans deserve to be hopeful and eager to get back to their pre-pandemic routines. While we focus on improving the economic growth of our nation, all Americans from coast to coast will be able to enjoy the economic benefits of which the United States of America is capable.
HHS Awards $107.2 Million to Grow and Train the Health Workforce (HERE)
· Today, the U.S. Department of Health and Human Services (HHS), through the Health Resources and Services Administration (HRSA), is announcing awards totaling $107.2 million to 310 recipients to increase the health workforce in rural and underserved communities.
FDA Takes Additional Action to Harness Real-World Data to Inform COVID-19 Response Efforts (HERE)
· Today the U.S. Food and Drug Administration has taken an additional step in harnessing real-world data to help inform the agency's overall response to the COVID-19 public health emergency.
FEMA Grants $35.8 Million to Arizona for PPE (HERE)
· The Federal Emergency Management Agency (FEMA) approved $35.8 million to reimburse the State of Arizona for the purchase of Personal Protective Equipment (PPE) to prevent the spread of COVID-19 and protect the health and safety of state, county, and tribal personnel, healthcare facility workers, and first responders.
Florida Manufacturer Pays Back Wages to Employee Denied Paid Sick Leave Required Under Families First Coronavirus Response Act (HERE)
· After an investigation by the U.S. Department of Labor's Wage and Hour Division (WHD), Producto Lure Co, Inc. – based in Sanford, Florida – has paid an employee two weeks of emergency paid sick for violating the Emergency Paid Sick Leave Act (EPSLA) provisions of the Families First Coronavirus Response Act (FFCRA).
USDA Approves Program to Feed Kids in Nebraska and South Carolina (HERE)
· U.S. Secretary of Agriculture Sonny Perdue today announced Nebraska and South Carolina have been approved to operate Pandemic Electronic Benefit Transfer (EBT), a new program authorized by the Families First Coronavirus Response Act (FFCRA), signed by President Trump, which provides assistance to families of children eligible for free or reduced-price meals dealing with school closures.
John Deere Donates Thousands of Face Shields to VA Hospitals to Fight COVID-19 (HERE)
· The U.S. Department of Veterans Affairs (VA) announced today John Deere has shipped 134,600 face shields to 49 VA medical centers in 27 states at no cost in response to the COVID-19 pandemic.
For the most up-to-date information, please see the CDC's website: www.coronavirus.gov.
« Previous
Next »