Teamsters Join in Celebrating Juneteenth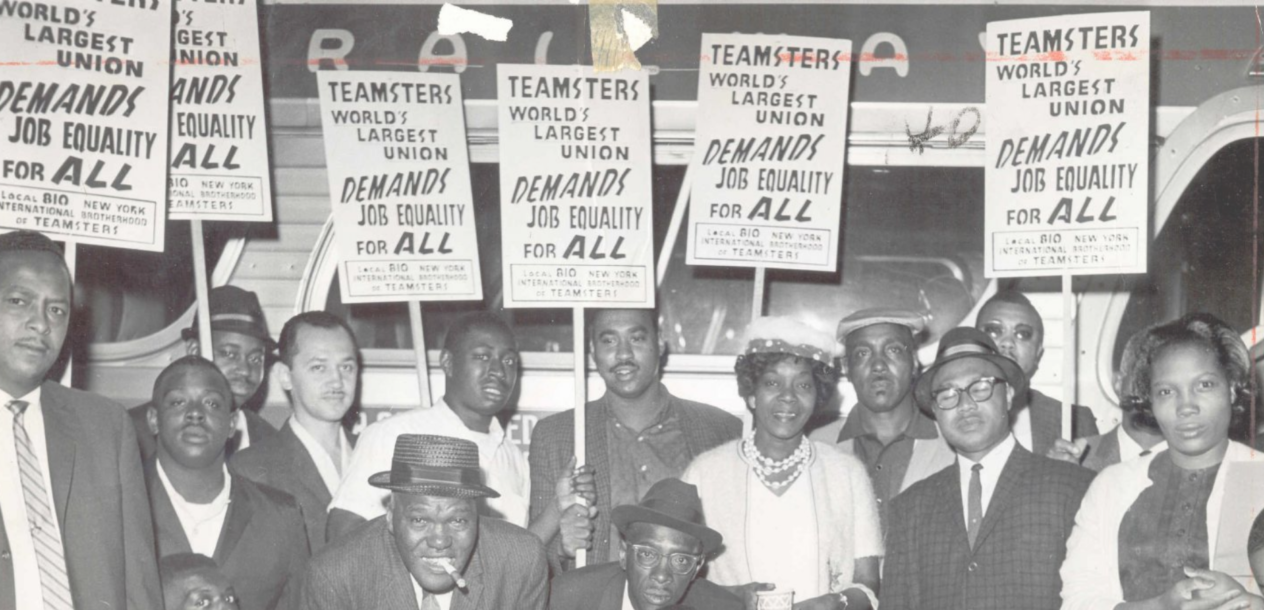 Union Calls on Congress to Create Federal Holiday
Press Contact: Ted Gotsch Phone: (703) 899-0869 Email: tgotsch@teamster.org
(WASHINGTON) – Today, the Teamsters join in honoring the 155th anniversary of the first Juneteenth and call on Congress to create a federal holiday marking the end of slavery. The Teamsters Human Rights & Diversity Commission will be celebrating along with Teamsters from across the country. Juneteenth, a portmanteau of June and nineteenth, is also called Freedom Day, Emancipation Day or Jubilee Day.
Juneteenth acknowledges June 19, 1865, when Major General Gordon Granger, along with more than 1,800 federal troops arrived in Galveston, Texas, to take control of the state and ensure freedom for the last remaining enslaved African Americans in the area.
This year, there is a renewed sense of purpose surrounding Juneteenth, given the continuing injustice Black Americans face in this country. The murder of George Floyd in Minneapolis on May 26 at the hands of police may have been the catalyst event that has brought hundreds of thousands into the streets to protest against racial discrimination all across this country, but the litany of wounds can be traced back 400 years.
"For more than a century, the Teamsters have stood for racial equality. But that in itself is not enough," Teamsters General President Jim Hoffa said. "This union recognizes that we all must do more to ensure that Black Americans live their lives without fear of injustice and have an equal voice in our communities. A Juneteenth holiday is a small, but important, step towards recognizing the full independence of every American."
Juneteenth initially became an occasion for gathering lost family members and measuring progress against freedom. In many territories, freed Black people would dress in their finest clothes to hear speeches. The earliest celebrations sparked traditions that continue today – from readings of the Emancipation Proclamation and religious services, to cookouts and family sporting events.
"This country continues to battle with the demons of its original sin, slavery," said Marcus King, Director of the Teamsters Human Rights and Diversity Commission. "Creating a Juneteenth holiday will not solve the nation's ills, but it will continue America's evolution towards truly bringing liberty and justice for all."
President Lincoln signed the Emancipation Proclamation on January 1, 1863, which declared "that all persons held as slaves" within the rebellious states "are, and henceforward shall be free." However, after more than two years, there were still thousands of enslaved Black people unaware of their freedom, located in a handful of confederate territories where word spread slowly or was outright resisted. Some slave owners coordinated with Union troops to wait until the end of a harvest to inform enslaved Black people they had been freed. Others resisted until federal troops arrived to read Lincoln's proclamation to the enslaved.
Although Juneteenth has been informally celebrated primarily by African American communities since that day in 1865, currently 46 of 50 U.S. states and the District of Columbia recognize Juneteenth as an official state holiday or observance. Texas became the first in 1980. New York and Virginia have also announced efforts to recognize Juneteenth as a state holiday there as well. Many corporations such as Twitter and Nike have declared Juneteenth a company holiday in recent weeks in response to protests over the killing of George Floyd and as corporate America faces backlash over racial inequality.
It is very important to commemorate Juneteenth this year. It has only been 155 years since the end of slavery and African Americans in this country still face discrimination and brutalization through an evolved machine that inflicted those same atrocities over the last 401 years.
The Human Rights & Diversity Commission is using Juneteenth 2020 as day of reflection, action and service. We implore you to join us in doing the same.
Please share your story. Take a picture with your Teamster logo and send it to our webpage, Instagram and Facebook pages celebrating Juneteenth.
Founded in 1903, the International Brotherhood of Teamsters represents 1.4 million hardworking men and women throughout the United States, Canada and Puerto Rico. Visit www.teamster.org for more information. Follow us on Twitter @Teamsters and "like" us on Facebook at www.facebook.com/teamsters.
« Previous
Next »