COVID-19 News Updates for June 25, 2020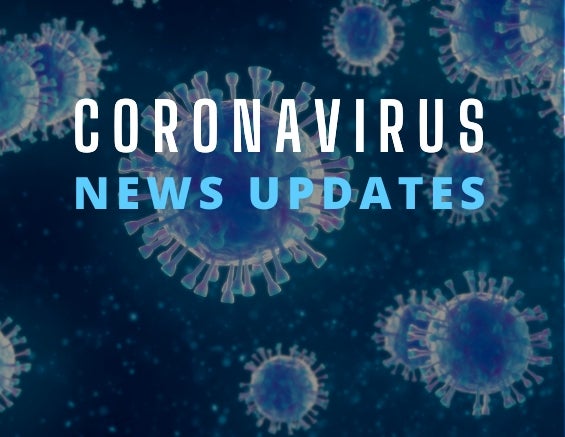 Guidelines for Opening Up America Again
President Trump has unveiled Guidelines for Opening Up America Again, a three-phased approach based on the advice of public health experts. These steps will help state and local officials when reopening their economies, getting people back to work, and continuing to protect American lives. Please click here for more information: Guidelines for Opening Up America Again
· Testing Overview (HERE)
· Testing Blueprint (HERE)
· Guidance for Cleaning and Disinfecting Public Spaces, Workplaces, Businesses, Schools and Homes (HERE)
· CDC guidance for Camps, Child Care Programs, Schools, Mass Transit, Restaurants And Bars, and Workplaces
· CDC Activities and Initiatives Supporting the COVID-19 Response and the President's Plan for Opening America Up Again (HERE)
White House Updates
· President Trump Delivers Remarks at Fincantieri Marinette Marine (VIDEO)
· Remarks by Vice President Pence at Roll Call at Youngstown Police Department | Youngstown, OH (HERE)
· Remarks by Vice President Pence on Opening Up America Again | Lordstown, OH (REMARKS, VIDEO)
· How the Trump Administration is Advancing Efficient Federal Operations (HERE)
· Daily 1600: President Trump speaks in Wisconsin (HERE)
CDC Updates, Expands List of People at Risk of Severe COVID-19 illness (HERE)
· Based on a detailed review of available evidence to date, CDC has updated and expanded the list of who is at increased risk for getting severely ill from COVID-19. Knowing if you are at increased risk for severe illness and understanding the risks associated with different activities of daily living can help you make informed decisions about which activities to resume and what level of risk you will accept.
SBA Partnering with Small Businesses to Drive Economic Recovery (HERE)
· Throughout this pandemic, and as we move carefully toward reopening, the SBA remains dedicated to sustaining our nation's small businesses and retaining tens of millions of employees.
HHS Announces New Organ Transplant Guidance (HERE)
· Today, the U.S. Department of Health and Human Services and the U.S. Public Health Service (USPHS) published an updated solid organ transplant guideline to assess donors and monitor recipients for human immunodeficiency virus (HIV), hepatitis B virus, and hepatitis C virus infections. This guideline reflects advances in transplant technology and safety that can increase the number of organs available for transplants.
FEMA Awards Nearly $2 Million to Help People Cope with COVID-19-Related Stress (HERE)
· FEMA Region 3 has awarded nearly $2 million to help fund crisis counseling services for people struggling with mental health issues stemming from the COVID-19 pandemic. As of June 25, these states had received crisis counseling service grants for a total of $1,991,704.
Federal Reserve Board Releases Results of Stress Tests for 2020 and Additional Sensitivity Analyses Conducted in Light of the Coronavirus Event (HERE)
· "The banking system has been a source of strength during this crisis," Vice Chair Randal K. Quarles said, "and the results of our sensitivity analyses show that our banks can remain strong in the face of even the harshest shocks."
USDA Highlights Accomplishments in Rural High-Speed Broadband Deployment Under American Broadband Initiative (HERE)
· Today, the U.S. Department of Agriculture joined its government partners to release a Progress Report detailing the accomplishments of the American Broadband Initiative (ABI) one year after the release of the initial ABI Milestones Report.
USDA Provides Flexibilities to Ensure Kids Receive Meals This Fall (HERE)
· U.S. Secretary of Agriculture Sonny Perdue today announced a range of nationwide flexibilities to ensure America's children receive the nutritious food they need throughout the upcoming school year.
Trump Administration Invests More Than $12.5 Million in High-Speed Broadband in Rural Georgia (HERE)
· The Trump Administration today announced that the United States Department of Agriculture (USDA) is investing more than $12.5 million to provide broadband service in unserved and underserved rural areas in Georgia. This investment is part of the $100 million in grant funding made available for the ReConnect Pilot Program through the CARES Act.
FDA Daily Roundup – June 24, 2020 (HERE)
· The U.S. Food and Drug Administration continues to announce actions taken in its ongoing response effort to the COVID-19 pandemic.
Florida Consulting Service Pays Back Wages after Denying Paid Sick Leave Connected to Coronavirus (HERE)
· After an investigation by the U.S. Department of Labor's Wage and Hour Division (WHD), Raider Environmental Services of Florida Inc. – a consulting service based in Opa-locka, Florida – has paid an employee $1,600 in back wages after having failed to provide the employee paid sick leave for work time missed due to testing positive for the coronavirus. Failure to provide sick leave resulted in a violation of the Paid Sick Leave Act (EPSLA) provisions of the Families First Coronavirus Response Act (FFCRA).
U.S. Department of Commerce Invests Cares Act Funding to Boost Economic Development Programs Critical to Helping Communities Respond to Coronavirus (HERE)
EDA CARES Act Recovery Assistance, which is being administered under the authority of the bureau's flexible Economic Adjustment Assistance (EAA) (PDF) program, provides a wide-range of financial assistance to eligible communities and regions as they respond to and recover from the impacts of the coronavirus pandemic. For complete information, please visit our recently updated EDA CARES Act Recovery Assistance page.
For the most up-to-date information, please see the CDC's website: www.coronavirus.gov.
« Previous
Next »