Teamsters Demand Republic Services End Abuse of Black Workers in Atlanta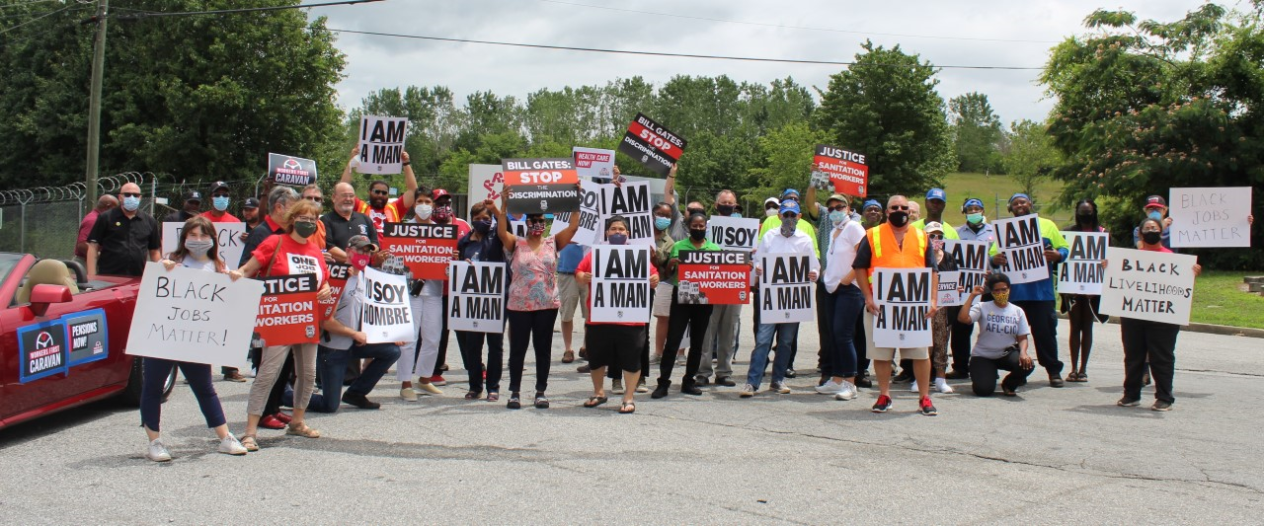 Republic Workers Call Out Sanitation Company for Unjust Treatment and Termination of Black Workers Amid Pandemic
(ATLANTA)– Republic Services workers and members of Teamsters Local 728 are demanding Republic Services put an end to Black worker abuse following the unjust termination and layoffs of five Black workers in Atlanta this past month. Last week, Republic Services workers held protests outside the Atlanta facility calling on the company to immediately rehire the five workers who were unjustly terminated and support the lives and livelihoods of their workers of color. The actions were part of the AFL-CIO's nationwide protests demanding racial and economic justice for all workers both during and after the COVID-19 pandemic.
Local 728's demands come in the wake of widespread protests in Atlanta after an unarmed Black man, Rayshard Brooks, was fatally shot by an Atlanta police officer in a Wendy's parking lot earlier this month.
"Republic's decision to terminate and lay off five Black workers without just cause only further affirms the company's discriminatory practices and heedless leadership," said Chuck Stiles, Teamsters Waste Division Director. "These workers put their lives on the line serving the Atlanta community and keeping the streets clean in the fifth most dangerous job in the country, but Republic treated them like they're disposable. Now, these five men will be struggling to put food on the table amid a global pandemic while Republic's executives continue to eat off their silver platters."
One of the workers, Noel Scott, worked as a mechanic at Republic Services for 23 years. While working, Scott accidentally checked-off a task on his to-do list that he had not yet gotten to, resulting in no accidents, no truck damage, and no harm to the public, Republic drivers or other workers. Scott was immediately terminated for "dishonesty."
Republic Services is the second largest sanitation company in the country and employs more than 35,000 workers nationwide. The company released a statement from President John Vander Ark following the murder of George Floyd that said the "driving factor" for Floyd's murder "was most likely the color of his skin" and that the event "shines a light on Black Americans who don't live in a society with equal justice." In his statement, Vander Ark — whose salary exceeds $4 million each year and who owns nearly $1.5 million in current Republic shares — called for a conversation on race, equity, and injustice from Republic's leadership, which consists of eight all-white executives.
"Vander Ark's statement is an insult to frontline workers who are forced to fight day in and day out for decent wages and the equipment we need to keep us safe on the job," said Demetrius Tart, a 15-year driver at Republic Services. "We are sick of empty statements when we need action. If Republic's leadership is serious about creating a culture where all people are valued, then they need to rehire the five Black workers whose jobs were eliminated and put real policies in place that not only prevent discrimination, but hold managers who do not follow these protocols accountable."
Republic Services workers in Atlanta, the vast majority of whom are people of color, joined the AFL-CIO in its demands to keep frontline workers safe and secure; keep workers employed and protect earned pension checks; keep state and local governments, public schools and the U.S. Postal Service solvent and working; keep America healthy by protecting and expanding health insurance for all workers; and keep America competitive by hiring people to build infrastructure.
"Throughout the pandemic and long before, Republic Services has failed to support its essential frontline sanitation workers," said Jerome Westpoint, a Republic Services driver with more than 40 years experience working in the sanitation industry. "What Republic doesn't understand is that our demands for respect and equality are no different from our demands for PPE, hazard pay, and sick leave. In the Atlanta facility, 140 workers are people of color. When we call on Republic for safety equipment and better pay, this is us calling on them to support us and treat us the way we deserve."
Sanitation work is considered one of the most dangerous jobs in the country, and even more so during the COVID-19 crisis. While other waste companies have taken steps to protect sanitation workers and the general public, Republic Services has failed to take action. Republic Services workers have reported inadequate and infrequent PPE at worksites across the country, specifically a lack of puncture proof gloves, face masks, protective eyewear and face shields. Further, Republic Services has been reducing its workforce, moving to 30-hour workweeks and rotating worker schedules.
« Previous
Next »