Women's Conference Webinars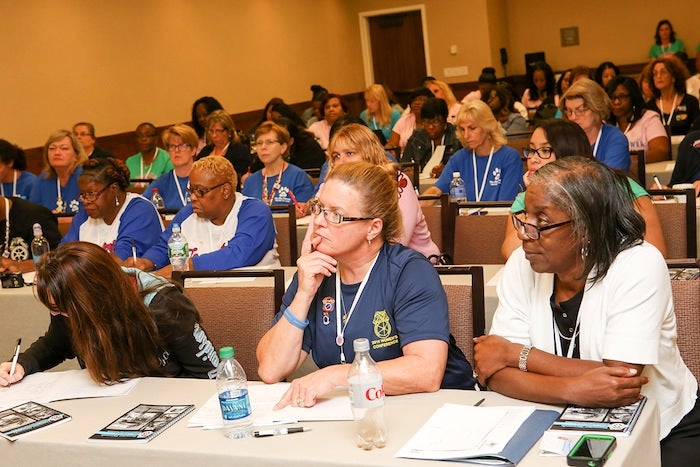 The Teamsters Women's Conference is continuing to provide timely, topic-specific webinars that we hope are helpful to you during this unusual and stressful time. While they do not take the place of our in-person conference, it's an opportunity to hear from experts in their fields regarding issues that affect all of us.
Below are links to the webinars we have provided to date, including our latest one on COVID-19. They have been pre-recorded for you to watch or listen to at your leisure. The Women's Conference will continue to produce webinars, so keep and eye out for future topics and feel free to share with others.
Topic: COVID-19 Essential Worker Health and Safety Awareness Webinar (75 min)
Presenter: Enjoli DeGrasse, Deputy Director, IBT Safety and Health Department

This webinar is designed to inform workers, who are required to work during the pandemic shutdown, how to protect themselves and co-workers from exposure to the coronavirus. These materials were developed through worker training grants funded by the National Institute of Environmental Health Sciences (NIEHS)
Watch On Demand
Topic: Then and Now: Teamsters Respond to Crisis (30 min)
Presenter: Karin Jones, Manager, Teamsters History Project, IBT Training & Development Dept.

Teamster Historian, Karin Jones takes a look back at the service Teamsters have provided to their communities and to the country during times of hardship.
Watch On Demand
Topic: Managing Stress During Coronavirus (40 min)
Presenter: Gretchen Grindle, LPC

Some of you may be experiencing higher levels of stress due to concern over illness for yourselves and your families, work, home schooling, just to name a few. Therefore, we have invited Gretchen Grindle, who has run a number of workshops for us at the women's conference, to present some specific ways to manage ongoing stress.
Watch On Demand
« Previous
Next »