Teamster Public Service Workers Get America Vaccinated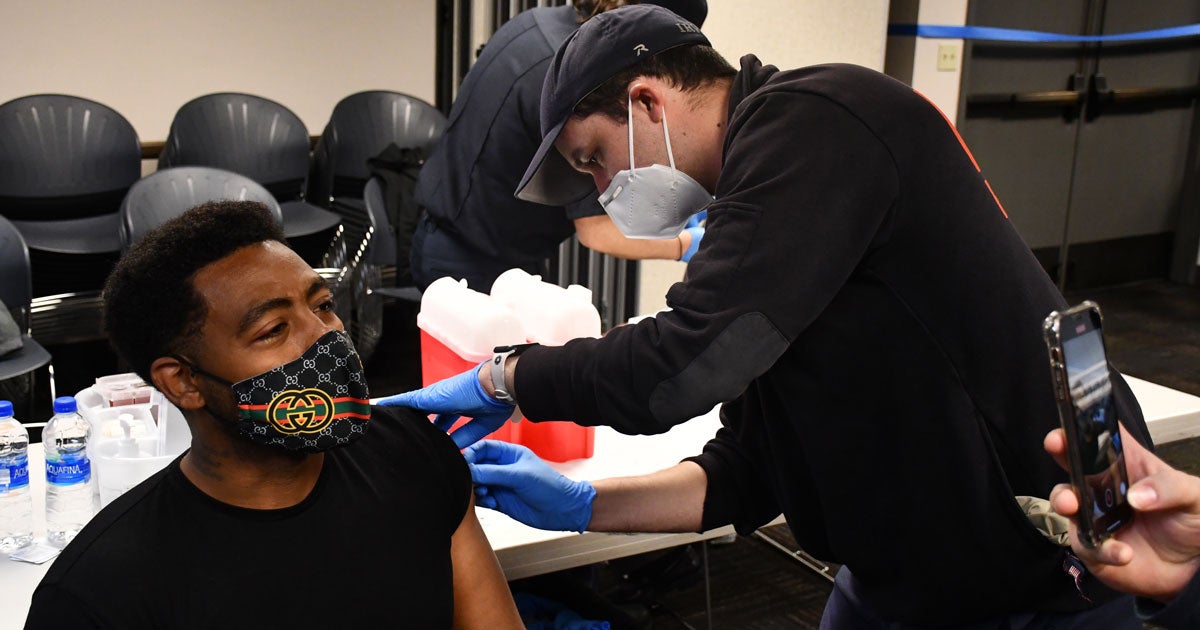 From coast to coast, Teamsters in the public sector understand what's at stake when it comes to combatting the ongoing coronavirus pandemic.
Since distribution of the COVID-19 vaccine began in December, members of the Teamsters Public Services Division (PSD) have been working around the clock to get America vaccinated and bring some much-needed light to the national health crisis. As cases of COVID-19 soared earlier this year, hundreds of PSD Teamsters put their lives on the line to distribute the vaccines essential to ending the pandemic.
In Kentucky, Local 783 members at Louisville Metro Emergency Medical Services (LMEMS) have been on the front lines since the start of the pandemic. When the vaccine was released in December, Local 783 members at LMEMS continued to play a crucial role and were on hand to assist at vaccination sites throughout Louisville.
"I am overwhelmed with pride when I think about how first responders at LMEMS are helping with the vaccine rollout, and the important work we have provided to the community throughout the pandemic," said Captain Mark Fuqua, a member and former steward at Local 783. "In addition to assisting with the vaccine, we have been on the front lines since COVID-19 first hit, and we responded to a lot of people in need, so getting folks vaccinated was extremely important to us after an incredibly hard and stressful year."
Fuqua said he knows his work will help America turn the corner on the pandemic, noting, "After months of responding to those infected, and the toll it took on us and our families, it meant a lot to play a part in the vaccination effort to help our community overcome the pandemic. We knew we had a job to do, and we couldn't be happier to see that things are beginning to return to normal."
As vaccines became more widely available, Fuqua and his colleagues at LMEMS coordinated with local vaccine clinics to ensure shots were getting into arms safely and effectively.
"Our members at LMEMS have been on the front lines throughout the entire COVID-19 pandemic," said Justin P. Scharrer, Recording Secretary at Local 783 and a former LMEMS sergeant for 19 years. "They have truly been heroes to this city throughout this most difficult year. They have been leaders and voluntarily stepped up when others were uncertain of how to proceed. Everyone at Local 783 is proud of their courage and dedication, and the community is grateful for their service."
In Minnesota, Local 320 members who work as cleaners and setup personnel at the Minneapolis Convention Center have been working nonstop for the better part of the year to ensure that the testing and vaccination site is cleaned and ready each day for residents of the Twin Cities.
"Everyone worked hard to help the community get tested and vaccinated. We felt like it was our responsibility to help the community, especially the elderly," said Abdulqadir Dahir, an OMS maintenance worker and steward for his unit at Local 320.
Dahir and his co-workers at the Minneapolis Convention Center worked throughout the pandemic to get Minnesotans tested, vaccinated and back to work.
"Every day was a different task, depending on the situation, and we were happy to take help to take part in fighting the spread of COVID-19. We knew it would take all of us helping to get the job done," he said.
Jabbing on the Job
Meanwhile in Missouri, Local 610 members with the Affton Fire Protection District (AFPD) in South St. Louis took their daily vaccine clinic on the road. Already, the Missouri firefighters have inoculated 15,000 people.
"It was super busy for us. Initially, we were supposed to be giving out 50-100 shots a day, but it was closer to 300," said Mark Bryant, a 15-year firefighter for AFD and a member of Local 610. "We worked through the entire pandemic as first responders, so when it came time to help distribute the vaccine, we jumped at the opportunity and were proud to take part. We all took great pride in helping the community, too. Everybody was very thankful and appreciative. And now that more people are vaccinated, the stress level of the job has lessened and a return to normalcy finally seems possible."
The Affton Fire Protection District provides emergency medical services, fire prevention, fire suppression and rescue services to 40,000 residents in South St. Louis.
"Affton firefighters had the experience and knowhow to get the job done. It was a huge team effort. We worked with firefighters from other departments and our brothers and sisters at IAFF to vaccinate as many people in the city as possible," Affton Fire Chief Nick Fahs said. "We reached people that wouldn't have otherwise had access, including low-income neighborhoods where people had no internet to book an appointment for a vaccineWe reached people that wouldn't have otherwise had access, including low-income neighborhoods in Moline Acres and Riverview, where residents lacked access to the vaccine and, in many cases, didn't even have internet to book an appointment online."
Fahs, a member of Local 610 and proud union chief, has been leading the efforts for Affton firefighters.
"Most of people are tickled to death that they're finally getting the shot in the arm; that the thing is going to be over for them," he said. "From the beginning, we said 'let's do as many as can do' and never wavered. Everyone stepped up. We have been vaccinating every day, and I think we're really making an impact on the overall number and helping to get this virus under control."
Back to School
While not directly involved in vaccinating, Local 502/Commonwealth Association of School Administrators (CASA) has been heavily involved in vaccinations for Philadelphia Public Schools employees.
"We had took action immediately and made positive traction as the mayor moved teachers, administrators and all school employees up on the vaccine timeline," said Dr. Robin Cooper, President of Local 502/CASA. "A partnership quickly developed with Children's Hospital of Philadelphia and we have had success ever since."
The partnership developed with Children's Hospital of Philadelphia (CHOP) was due in large part to the advocacy of Teamsters calling for urgency in the vaccination process. As a result, CHOP partnered with the Philadelphia Department of Public Health (PDPH) and various Philadelphia school networks to immunize more than 19,000 personnel at schools across the city.
"They needed boots on the ground. It took a lot of coordinating — hours of Zoom calls for three weeks straight — but once we got through planning the logistics, the rest was easy," said Local 502/CASA member Antonio Anderson. "Together, we made sure we met all the safety standards, we looped everyone in, and then we got the job done. We were the leading site for teachers, hosting and serving more than 500 people a day."
Anderson, a climate manager at South Philadelphia High School, noted that the relief on people's faces made the experience all the more rewarding.
"Throughout the pandemic, we worried about our students and their families, but we were all in this together. We made it work. In all my years working as a climate manager, taking part in the vaccine effort is by far the highlight of my time here. The work of CASA members and the partnership with CHOP and PDPH helped protect many students and, for that, we feel grateful."
West Coast Teamsters Take Action
On the other side of the country, PSD Teamsters in California and Washington State have also been leading the effort to make sure both members and the public are vaccinated.
In Tukwila, Wash., Teamsters Local 117 and the Drivers Union partnered with Puget Sound Fire Authority and the King County Department of Public Health to vaccinate more than 500 community members. The two affiliated unions organized Sunday's pop-up vaccination clinic to dispense critical public health services to vaccine-eligible union members and their families while focusing outreach on the immigrant community of Uber and Lyft drivers that may have limited access to the COVID-19 vaccine.
"I'm over the moon that my union is doing this," said Janelle Lundin, a Teamsters 117 Shop Steward who works in the Education Department at the Woodland Park Zoo. "I was having trouble getting an appointment other places. I live in a multi-generational household and this will give me extra protection for my 84-year-old mother."
"I'm incredibly happy to have this opportunity," said Abdullahi Usman, a father of five who drives for Uber and Lyft. "Driving for Uber, I have lots of interaction with the public, especially people who are traveling. I'm the first in my family to get vaccinated, and this will help keep all of us healthy and safe."
The event was a well-coordinated partnership between the two unions and a number of public agencies. Firefighters from six regional fire departments, including the Tukwila Fire Department, screened, counseled, and administered a choice of the Moderna or Johnson & Johnson vaccines to attendees. More than a dozen Teamster staff and community members volunteered to ensure that CDC guidelines were enforced.
In California, CSU Skilled Trades Teamsters have stepped up to play a critical role in setting up large COVID-19 vaccination sites in Los Angeles and San Diego counties. Throughout the Golden State, Local 2010 members have been working hard to perform the essential services that are keeping CSU running through the pandemic and are on their way to some sense of normalcy.
To ensure all members are vaccinated, Teamsters Public Services Division Director and Local 2010 Secretary-Treasurer Jason Rabinowitz sent a letter to CSU administration asking them to provide paid time off work to receive the vaccine and to allow those with vaccine sites on-campus to receive their shots there.
"Needless to say, time is of the essence, as our members are working every day on the campuses, and it is imperative that we give every worker the opportunity to receive the vaccine as soon as possible," Rabinowitz wrote.
In the letter, Rabinowitz also demanded that CSU and UC work with Local 2010 to ensure that workers' rights and interests are protected. It didn't take long for the universities to feel the pressure and jointly announced a new policy requiring all staff, students and faculty on campus would be vaccinated for the fall.
For Dennis Sotomayor, a lead steward at Local 2010 and Cal State Los Angeles (CSULA) facilities maintenance mechanic, his work has always been about public safety. Since the vaccine rollout began, he has been tasked with coordinating logistics for Cal State Public Safety to help support the FEMA vaccination site.
"If they (FEMA) need anything moved liked signage, they need power somewhere, access to a different area, or anything else related to the site, they send a work request to facilities and we get it done," Sotomayor said. "It's very exciting to be a part of this, especially as a Teamster, because – hopefully – this will never happen again."
Sotomayor said he and his CSU Skilled Trades co-workers have helped with set-up and provided ongoing support, as they would for any other use of the CSU facilities. While there are CSU campuses that are not providing vaccines on-site, Sotomayor said CSU Los Angeles has set-up mobile vaccine sites for staff and faculty, who may obtain their vaccines on paid work time.
Rabinowitz, along with Sotomayor and lead locksmith Paul Butler, have also been on hand to observe and ensure that vaccinations are being distributed effectively and efficiently. Butler, who is also a member of Local 2010, works on the public safety side at CSULA and provides assistance with access, keycards and campus police support for the site.
"CSU Skilled Trades Teamsters have been on campus, providing critical skilled work throughout the pandemic," Rabinowitz said. "Those who want to receive a vaccine should be able to receive one right away now that they are eligible. And they should be able to receive it on paid time, on-campus, if possible. These Teamsters have been behind-the-scenes heroes since day one of COVID-19."
Answering the Call
As division director, Rabinowitz said he is proud of the efforts of public-sector Teamsters nationwide.
"Although the pandemic isn't over, the efforts of PSD members provide hope of an eventual return to normalcy," Rabinowitz said. "The pandemic has tested our division in ways we could have never imagined. But members of the Teamsters Public Services Division met the unprecedented challenges like we always do, with the courage and commitment to persevere, and we are all the stronger for it."
In times of crisis, Teamsters are always willing to step up. The service of members nationwide has not gone unnoticed. This spring, Vice President Kamala Harris visited with Teamster members to get a better understanding of how unions are driving the vaccination process and thanked the Teamsters for their hard work and dedication to their jobs during the ongoing pandemic.
For PSD Teamsters, the past year has brought unprecedented challenges and opportunities. In communities nationwide, they have answered the call as they always do, and in countless ways.
For more updates on PSD members efforts to get America vaccinated, visit the division page at https://teamster.org/divisions/public-services-division/
« Previous
Next »