Hoffa: Teamsters Unite to Take on Amazon Threat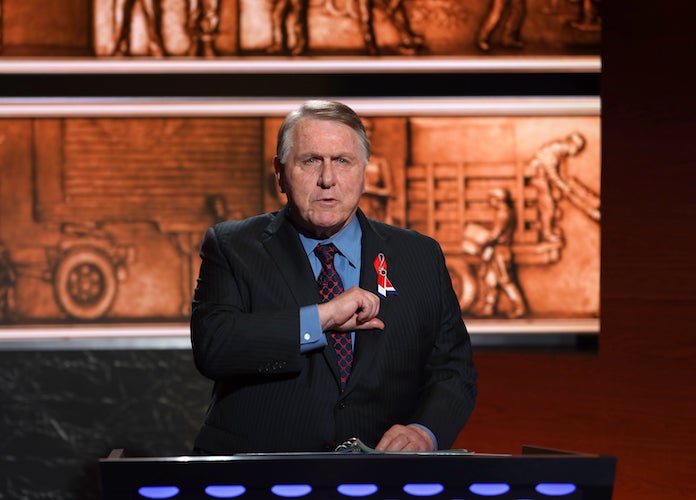 By Teamsters General President Jim Hoffa
Published in the Detroit News, July 7, 2021
The Teamsters Union at its 30th International Convention late last month made a historic decision to commit and unite the union to protecting and improving the wages and workings standards in the goods movement industry under threat from Amazon's exploitative employment model.
Amazon's reprehensible labor practices are well documented and recent groundbreaking reporting confirms there are continuing abusive practices. A recent analysis by Jeff Bezos' own Washington Post and a report by the Strategic Organizing Center shined a light on Amazon's atrocious health and safety record that found, among other things, Amazon workers are injured at rates twice the industry average. The New York Times documented the Amazon culture of treating workers like disposable cogs through a business model designed on high worker turnover.
For the past five years we've been tracking Amazon's growth, presence and impact on Teamster-represented industries and speaking with thousands of Amazon workers about the conditions they face in their workplaces. To further our work and those efforts, last year I appointed Randy Korgan, a local union leader in Southern California, as the National Director for Amazon.
And over those eight months, we have embarked on an unprecedented effort to educate and train our leaders about the threat to industry standards and the need to mobilize our members to support Amazon workers as they organize to build power in their workplaces. Already, the company is seeing a rising tide of resistance in many communities where concerned residents, civic organizations and union members are coming together to demand something better than the usual Amazon effect when it comes to town.
In addition to our efforts to support Amazon workers on the shop floor and in our communities, we have been calling on regulators and legislators to enforce and improve our antitrust laws. In just a short time, Amazon has been able to use profits generated from its dominant position in AWS and retail e-commerce, coupled with anti-competitive practices enabled by market power, to become a dominant firm in the last-mile delivery portion of the logistics industry.
Amazon also abuses its market power in e-commerce to restrict third-party sellers' options of last-mile delivery and logistics firms — and in the process it is destroying middle class jobs. These companies should not be able to choose winners and losers in the economy. We need a level playing field for the health of our economy and its small businesses, consumers and workers.
We've called on the FTC to investigate and initiate enforcement on Amazon's anti-competitive business practices and are urging the introduction and passage of federal and state bills to strengthen the ability of regulators to curb the outsized power of large corporations in product markets and labor markets.
Our union has been ambassadors of workers in this industry for well over a hundred years. We fought for workers' rights to organize and build power before the current labor laws were passed in 1935 and since then our contracts have set the highest wages, benefits and working conditions in the goods movement industry.
I'm proud of that history, proud of the foundation that we have built to take on this threat, proud that all levels of our union have united behind these efforts and proud that the work of helping Amazon workers build power in their workplaces will continue and expand under the next generation of Teamster leadership.
« Previous
Next »