New Biden Administration Guidelines Should Prioritize Union Jobs
The Biden administration has released a new set of principles for companies seeking federal funding that is expected to make good-paying jobs available to more workers while dismantling corporate-friendly roadblocks that discourage worker from joining unions.
The U.S. departments of Labor and Commerce announced the new framework at the Good Jobs Summit on Tuesday. It is meant to expand the availability of good-paying union jobs nationwide by calling on corporate America to allow its workers to join unions and "engage in protected, concerted activity without fear of retaliation."
Other highlights include paying workers a "living wage"; making sure they have job security and a safe and healthy workplace free from harassment; and ensuring workers receive health care and retirement benefits "that promote economic security and mobility."
These issues – as well as others dealing with hiring, diversity and advancement – will be prioritized by the departments of Commerce, Energy, Labor and Transportation when they dole out dollars to the private sector to work on federal contracts.
Teamsters General President Sean M. O'Brien said it is about time workers were granted the respect they deserve.
"For too long, government has turned its back on the people who keep this nation running each day," O'Brien said. "This is a step in the right direction, but we should view these efforts as the floor and not the ceiling. The era of corporations having their way is over. Elected officials must do more to raise working people up. The Teamsters will demand they do."
U.S. Labor Secretary Marty Walsh said creating better jobs for American workers is paramount.
"Good jobs change lives and lift up whole families," Walsh said. "We have the opportunity right now to lift up more people than ever before."
Doug Bloch, Political Director of Teamsters Joint Council 7 in California, attended the summit as an invited guest of Julie Su, the Deputy Secretary of the U.S. Department of Labor. Su previously headed up the California Department of Labor and worked with Bloch for years to craft policy for the state to use its monies to expand the availability of union jobs that support middle-class families.
Bloch, who served as a representative on the California Future of Work Commission, said the newly announced federal principles will bring the same opportunity on federal contracts.
"We have an administration that is working to put taxpayer money where it should go – to create good jobs, not crappy jobs," he said.
Union jobs are certain to get a boost from the effort, Bloch said. But it also provides an opportunity for cities and states in more worker-friendly locales to go even further. He said local union leaders and members have a role to play to make it happen.
"In San Francisco, the Teamsters have worked for years to get decision-makers on board to politically and publicly support union jobs, and to hold them accountable," Bloch said. "it's great to hear an administration commit itself to labor, but we have to do the hard work to make sure they follow through."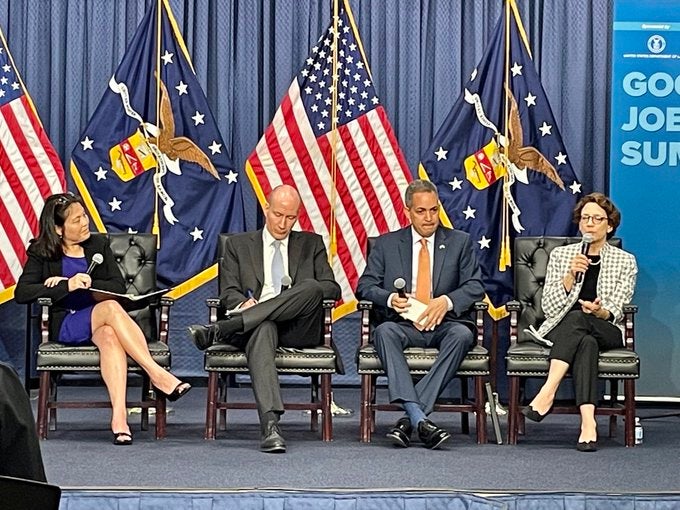 « Previous
Next »