One Year After Launching Ambitious Organizing Effort, Hundreds of Cannabis Workers Join Teamsters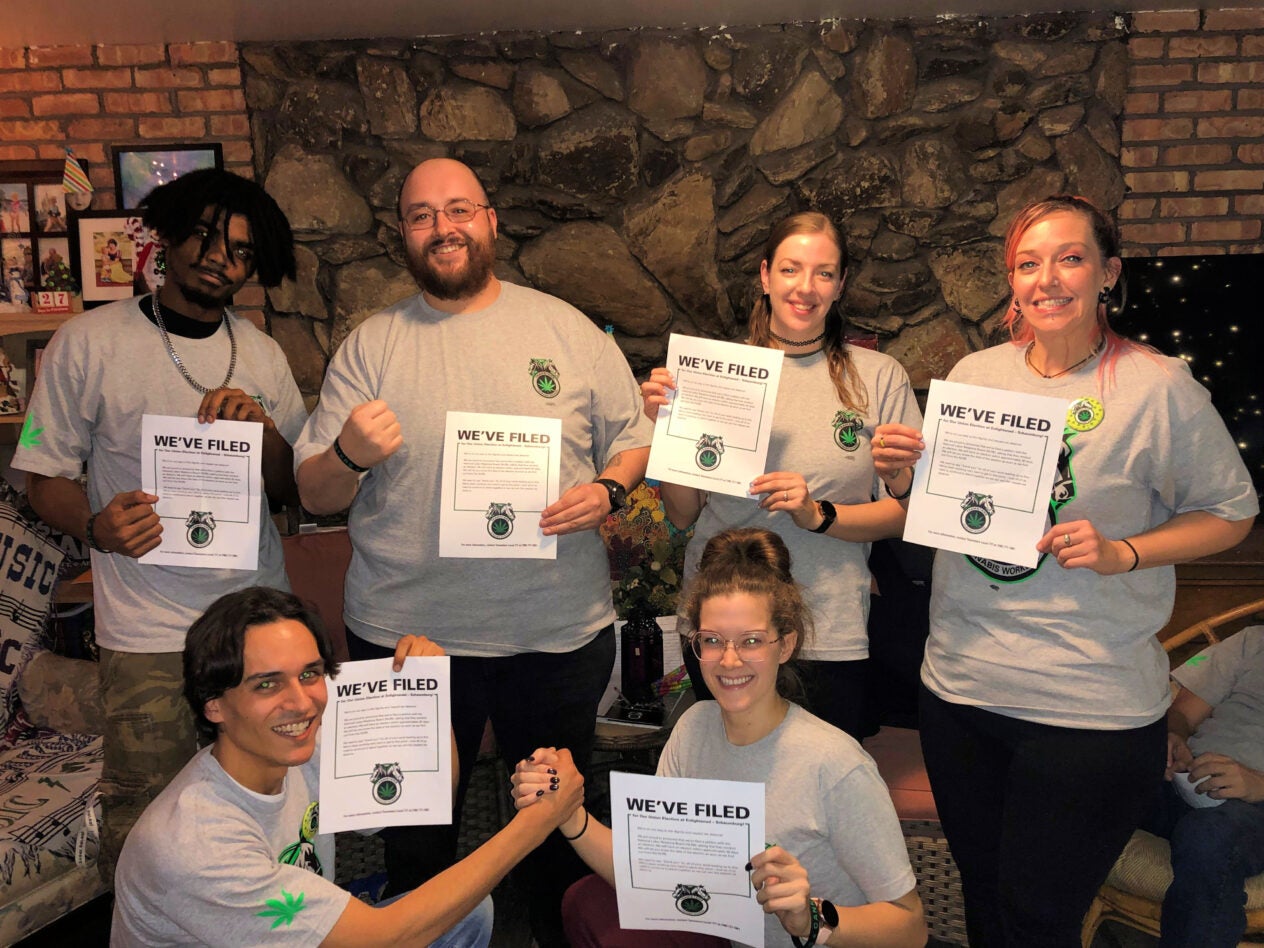 There are few goals more difficult to accomplish than successfully organizing a union. The process can be long and arduous, many workers are afraid to exercise their rights and companies will spend six or seven figure sums breaking a union drive as soon as they get wind of it without blinking an eye. When the Teamsters launched a national organizing campaign in the cannabis industry last year, it was a risky endeavor.
"We knew that organizing a nascent industry like cannabis would be hard, but that doesn't bother us," said Peter Finn, Teamsters National Food Processing Director. "Usually, the things in life that are the most worthwhile are also the most difficult."
After only a year, cannabis organizing has proven to be an incredibly successful undertaking. Nearly 500 workers in over a dozen facilities – including dispensaries, growth operations and distributers – have voted to join the Teamsters since May 2021, and if the past is prologue, thousands more are yet to come.
Gaining Equity Through Union Power
The cannabis industry has exploded in a very short time – ten years ago, Colorado and Washington had both just voted to become the first two states to legalize recreational cannabis. Now it's legal recreationally in 18 states and the District of Columbia, with more on the way. Not only that, but it's an industry worth over $25 billion annually. With all of the money being made on cannabis, the workers responsible for its success knew they needed the strongest union in North America to ensure they got a piece of the pie.
One of the companies where the Teamsters have made incredible strides in organizing is Verilife. Ashley Birdsell works at the company's dispensary in Ottawa, Ill.
"I'm excited to be a part of this movement and to make history," Birdsell said. "The Teamsters are for us workers. They want to make sure that we are protected and not just a disposable pawn for cannabis companies."
Jim Thompson has worked at a Verilife call center in Schaumburg, Ill. since it opened in 2018, and he voted to join Local 777 back in February.
"It's important for us to go union to keep up the high standard of patient and customer care that call center workers here have established," Thompson said. "On a personal note, this is the same Teamsters local union that my father joined in 1972, so that makes it even more special for me."
Turning Jobs into Careers
The Teamsters aren't just winning elections – they're getting results at the bargaining table. Retail and farm labor have been treated by employers as low-paying, high-turnover occupations for far too long. With a Teamster contract, cannabis workers won't suffer the same fate. The community of workers in the craft is passionate about the plant and its culture, and they deserve more than jobs – they deserve a career. Teamsters Local 1932 recently ratified a contract at Tikun, a grow operation in Adelanto, Calif. that embodies this principle. Ken Ocean is a cultivation technician at the company.
"Our first union contract represents tremendous growth for all of us workers at this company," said Ocean. "It's really a privilege for any of us in this business to have taken part in this process and we're really putting the mark on the map that there is a brighter light coming in this industry."
In Chicago, Local 777 just negotiated a contract at two Modern Cannabis locations that contain a number of significant improvements, including guaranteed annual raises, a new company guarantee that workers can accept tips, seniority rights and a guarantee of forty hours per week for full-time staff. Sydney Charles works at one of those dispensaries.
"There is no reason that people who are putting their blood, sweat, passion and tears into the building of this national empire are not secured with a certain quality of life," Charles said. "We deserve to be able to pay our rent on time. We deserve to be able to feed our families without worry, and above all we deserve to be able to take care of ourselves mentally and physically with health insurance."
Drivers and fleet maintenance workers at NABIS, a cannabis distribution company in Los Angeles, voted to join Teamsters Local 630 last December. They ratified their first contract earlier this month, and includes a number of significant improvements. These include wage increases of at least 28 percent throughout the lifetime of the agreement, four weeks of paid vacation, paid sick days, paid holidays, guaranteed minimum of 40 hours per week, pension benefits and more.
"I can say that I'm thankful for all my co-workers' determination and unity, and to Local 630 for all their guidance and assistance," said Nabis Driver Jordan Davis. "They gave all of us the opportunity to achieve our union and our first contract, which will change our lives. Thanks to Teamsters, I now have a career instead of a job."
Organizing to Build a Strong Future in the Industry
With cannabis generating billions in tax revenue and a growing segment of the American public supporting legalization, more states are likely to open their doors to the industry. Hawaii, Maryland, Minnesota, Missouri, New Hampshire, North Dakota, Ohio, Oklahoma, Rhode Island and South Dakota all have either legislation or referendums pending that could legalize recreational cannabis by the end of the year. Even more states have measures to legalize medical cannabis on the horizon.
Wherever that happens, the Teamsters will be ready for them. The union plans on expanding organizing targets and building upon the grassroots momentum of the past year. To do that, it will empower local affiliates with the tools they need to take on dispensaries and grow operations and implement the successful, bottom-up, worker-driven organizing model that has already proven to work. The Teamsters will also fight for more Labor Peace Agreements (LPAs), regulations that force employers to behave neutrally during an organizing campaign as a condition of receiving a license to operate.
"For far too long, innocent people were locked up for possession of cannabis," Finn said. "Now that there's billions of dollars to be made in this industry legally, restorative justice is needed. This justice means we ensure that cannabis revenue goes to the people who deserve it the most. We make that happen with a Teamster contract."
« Previous
Next »