Warehouse Worker Protection Act Clears New York Legislature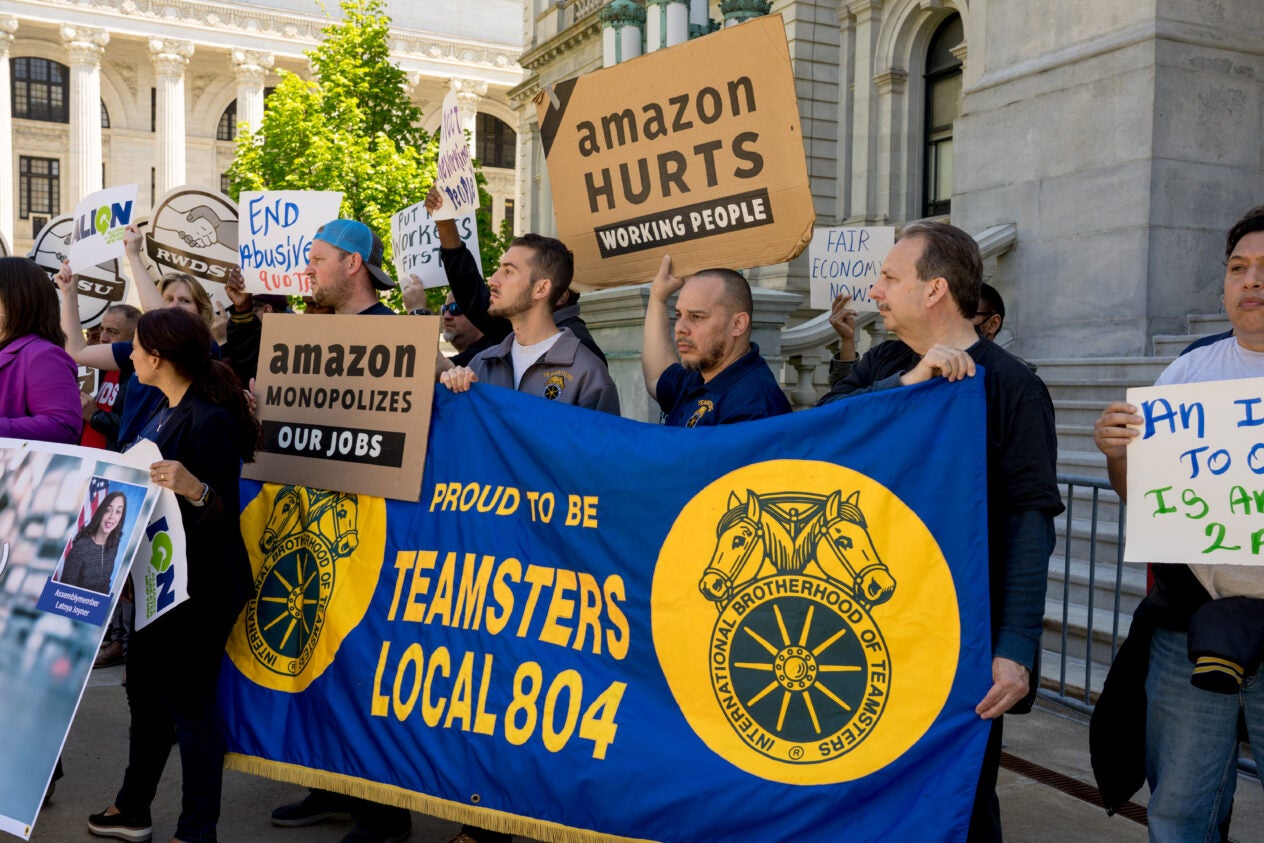 The New York Legislature approved a measure late last week that beefs up worker safety in the e-commerce and warehouse industries at companies like Amazon. The bill brings transparency to hidden workplace quotas and ensures that quotas don't interfere with legally protected breaks.
The Warehouse Worker Protection Act, sponsored by Senator Jessica Ramos (D) and Assemblymember Latoya Joyner (D), was drafted with input from the Teamsters and other members of the New Yorkers for a Fair Economy coalition. The bill, along with the Teamster-backed AB 701 in California, would help set leading warehouse industry protections as it relates to overly burdensome and abusive quotas. It now heads to the desk of Gov. Kathy Hochul (D) for her signature.
"Amazon takes advantages of its workers to maximize profits," said Sean M. O'Brien, Teamsters General President. "The Teamsters will continue to support pro-worker bills in states across the country to make sure this white-collar crime syndicate is held responsible for its behavior."
"Managing by secret algorithm, as Amazon does in its warehouses, is an attack on all working people and an affront to what has traditionally been a middle-class job for our warehouse members," said Tom Erickson, President of Teamsters Local 120 and Director of the Teamsters Warehouse Division. "Lawmakers of all parties need to understand the damage this company is doing to its constituents and our communities."
Teamsters Joint Councils 16, 18 and 46 previously wrote in a letter sent to lawmakers that the bill would shield workers from discipline or termination based on unfair and secret quotas and protect standards in the warehouse industry.
The legislation requires that major warehouse companies provide their employees with documentation of their quotas at the time of hire, or when the law takes effect for current employees. Employees must also be provided with copies of their quota when changes are made and have the right to request their quota at any time, even after their employment ends. Companies will no longer be able to impose quotas that interfere with workers' lunch, rest or bathroom breaks. The bill also protects workers from retaliation when exercising their rights.
"Amazon is driving down standards that Teamsters have achieved over generations in the warehouse industry," said Thomas Gesualdi, President of Joint Council 16 in New York City. "The Warehouse Worker Protection Act is needed to finally bring transparency to unsafe quotas that are pushing workers to the brink."
"This is a critical step in addressing Amazon's abuses," said John Bulgaro, President of Joint Council 18 in Albany. "At the same time, it is a first step. Workers having the freedom to collectively bargain is the way that we'll ultimately change the culture at abusive employers like Amazon."
"With Amazon expanding across northern New York and elsewhere, Amazon's abusive practices have the danger of pushing down standards across the warehouse industry," said George Harrigan, President of Joint Council 46 in Buffalo. "By eliminating secret quotas, we've achieved a key step in holding Amazon accountable and protecting warehouse workers across the state."
Injuries increased by 64 percent at Amazon warehouses in New York as the company reinstated its grueling quotas after the first wave of the COVID-19 pandemic, according to a report from New Yorkers for a Fair Economy.
The Teamsters Union supported similar legislation on quotas that passed in California last year. Minnesota also advanced a bill based on the California law this year. Additionally, the Teamsters backed other related legislative efforts in Connecticut, New Hampshire and Washington state.
« Previous
Next »