Teamsters, California Labor Federation, Lawmakers Announce New Autonomous Vehicle Legislation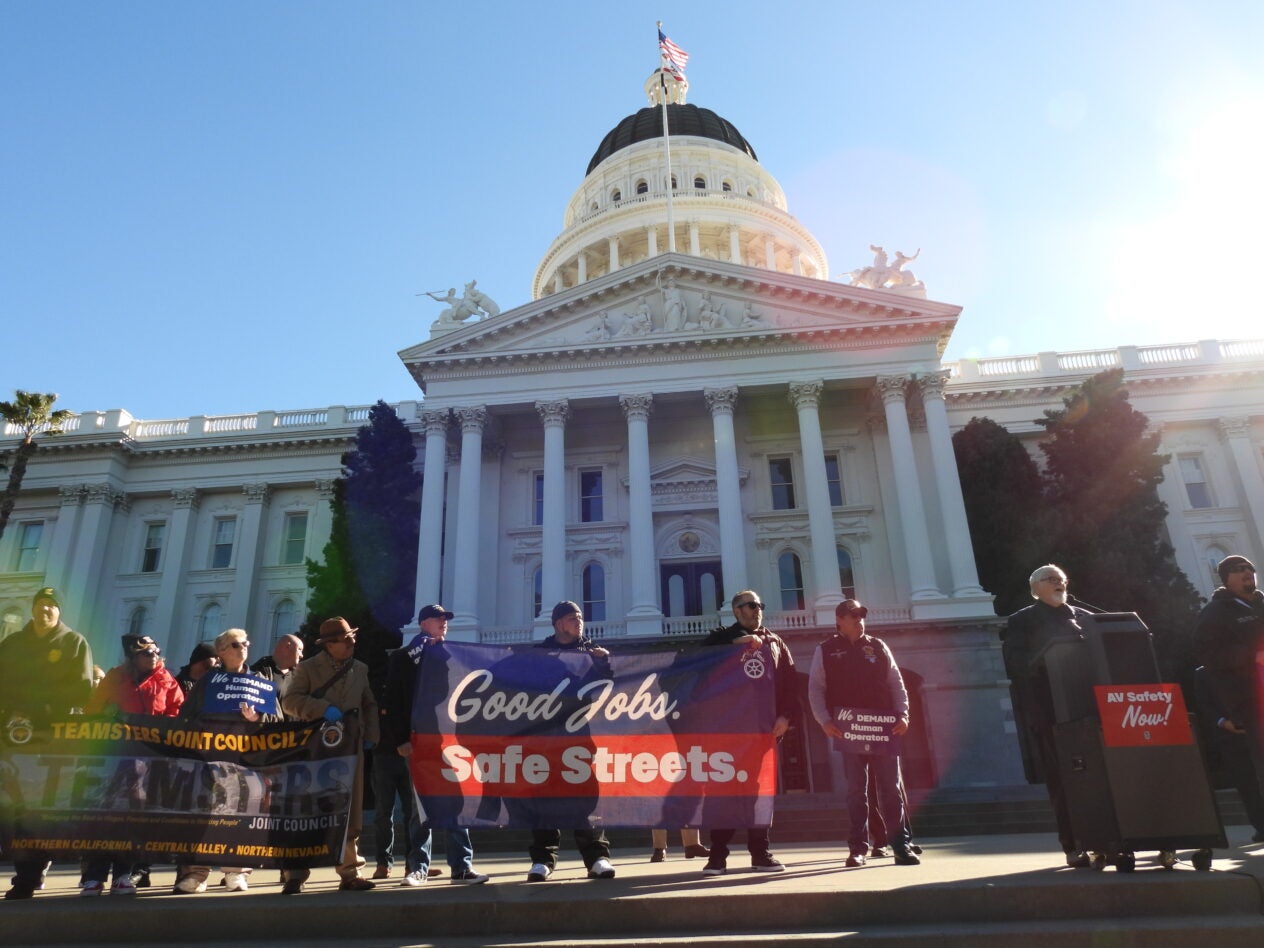 Assembly Bill 316 Protects Public Safety, Union Jobs
Press Contact: Matt McQuaid Phone: (202) 624-6877 Email: mmcquaid@teamster.org
(SACRAMENTO, Calif.) – Today, Teamsters Joint Council 7, Teamsters Joint Council 42, and the California Labor Federation were joined by lawmakers for a rally at the California State Capitol to highlight the introduction of legislation requiring human operators to be present in autonomous vehicles (AVs) weighing over 10,000 pounds. The legislation, Assembly Bill 316, is authored by California Assembly Members Cecilia Aguiar-Curry (D-Winters), Asm. Tom Lackey (R-Palmdale), and Asm. Ash Kalra (D-San Jose).
"This is not a partisan issue. Public safety affects us all. As a retired member of the California Highway Patrol of almost 30 years, I've seen the true consequences that collisions have on humanity, and I have personally informed families about the loss of their loved ones. That changes you, it becomes part of the fabric of who you are," said Assemblymember Tom Lackey of District 34 and bill co-author. "That's why I am proud to co-author this piece of reasonable legislation to help keep our communities safe."
The bill's introduction comes as the California Department of Motor Vehicles (DMV) is likely preparing a new regulatory framework that would allow for autonomous vehicles over 10,000 pounds to hit the road, possibly within one year, without consent from the California legislature. Crafting AV regulations without the input of democratically elected representatives will create calamitous public policy, one that threatens the lives of millions of Californians. Teamster members expressed their strong opposition to the DMV modifying AV regulation at a workshop it hosted on January 27.
"Moving too quickly to convert our fleets to autonomous trucking is very short-sighted and could result in a severe shortage of trained and capable workers as we investigate what the transition looks like," said Assemblymember Cecilia Aguiar-Curry of District 4 and bill co-author. "The supply chain crisis of the past three years should teach us not to ignore emerging needs in this very complex international goods system."
"As a professionally trained truck driver of nearly three decades, I've seen hundreds of accidents, put out car fires, changed tires for people on the side of the road, and pulled people out of the way of highway traffic. These incidents require a trained human operator to respond appropriately. Automated vehicles are not ready to be operated without a properly trained human operator behind the wheel," said Aaron Issacs, a member of Teamsters Local 315. "California needs to put safety first, and this bill would do just that."
Autonomous vehicles without human operators pose a real risk to the safety of millions of Californians. Reports of AV crashes and AV-related deaths are becoming increasingly common. In addition to the safety risks, Amazon and other AV proponents have yet to outline what will happen to professional drivers. The proposed AV legislation aims to address these issues and keep the public safe while maintaining good California jobs.
"We are not going to let the tech companies, or any politicians kill anyone in our communities or kill our jobs with the use of autonomous vehicles. The Teamsters are done chasing policy: our goal is to create policy and those policies should be created by the people, and for the people," said Lindsay Dougherty, Teamsters Western Region International Vice President and Secretary-Treasurer of Local 399. "We invite all politicians to join us in this fight to preserve and protect the lives of working people."
"As truck drivers, we are the ones who can quickly help somebody whose car is on fire, or in an accident. An automated machine isn't able to do that – having a real person behind the wheel saves lives. We also cannot overlook the potential cuts to good jobs and how these jobs support the livelihoods of so many California families. This is not just a job for me, it is life support for my family," said Joe Garner, a member of Teamsters Local 315. "Lawmakers have an obligation to protect their constituents, and they must prioritize public safety and good jobs."
"Tech companies don't talk about people. They don't talk about families that depend on the jobs that you all rely on," said Assemblymember Ash Kalra of District 27 and bill co-author. "When we think about safety and we think about the trucking industry in particular, if a truck breaks down on the side of the road, I want one of you to be there to troubleshoot it. I want one of you to be there to make sure it gets safely off the road. I want one of you to be there to make sure it gets back on the road as safely as possible."
"This is such an important step forward. Technology can be good. It can. I think there's a misconception that organized labor doesn't like tech. Well, we like tech as long as it does good. Technology can be efficient. It can create safer environments, and we want it to do so," said Lorena Gonzalez, California Labor Federation Executive Secretary-Treasurer. But you don't create a safer environment if you have a 10,000 pound vehicle with no human operator on there as a safety net."
"I've been a trained truck driver for nearly three decades and have seen it all out on the road. It's difficult to imagine that an automated vehicle could drive through a city and notice a person experiencing mental health challenges or respond appropriately during a dangerous accident. You cannot program instinct into a computer. Behind our jobs are also real people, who need insurance just like we did when my wife underwent cancer treatment," said Michael Fry, a member of Teamsters Local 2785. "That's why I support this bill to ensure the safety of Californians up and down the state and protect good-paying jobs."
"This bill will help keep our roads safe, and it will also help protect our jobs. For me, this job means I can look out for my family, my wife, three sons and my daughter. With my truck driving job and union, I know my family is being taken care of. This job doesn't just give me good benefits and a pension, it gives me peace of mind," said Fernando Reyes, a member of Teamsters Local 350. "This is why I fully support the human operator requirement bill – it's time California puts safety and good jobs first."
"The Teamsters are no strangers to technology. The Teamsters are no stranger to advancement," said Jason Rabinowitz, Teamsters Joint Council 7 President. "But our union has always demanded that with the new technology, we protect our jobs. With the new technology, we protect our safety and our community."
"Here's the bottom line: big corporations are trying to implement autonomous vehicles for one reason only, and that is greed. What these big corporations are trying to do is eliminate these trained professional jobs to boost their already excessive corporate profits and outsource driver jobs to robots," said Peter Finn, Teamsters Western Region International Vice President and Secretary-Treasurer of Local 856.
"How many times have you had a glitch in your smartphone? You can imagine that technology hasn't gotten there yet," said Randy Cammack, Teamsters Joint Council 42 President. "I read about one of the test programs they did in Texas with a safety driver in the truck. The safety driver had to intervene eight times and grab the wheel because technology failed. Let's not risk our brothers and sisters. On top of it, let's not risk the threat to good Teamster jobs across the country."
Founded in 1903, the International Brotherhood of Teamsters represents 1.2 million hardworking men and women throughout the United States, Canada, and Puerto Rico. Visit www.teamster.org for more information. Follow us on Twitter @Teamsters and "like" us on Facebook at www.facebook.com/teamsters.
« Previous
Next »