Teamster Carhaulers Rising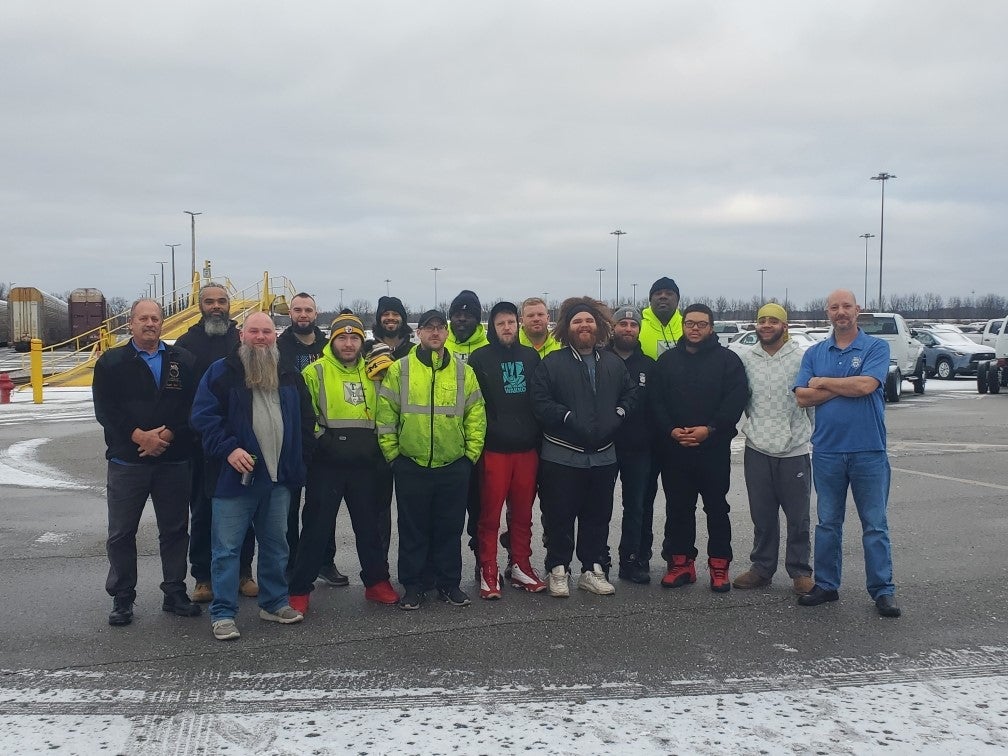 More Members Win the Protection of National Contract
Carhaul Division Director Avral Thompson's vision for the future has arrived. Over the spring and summer of 2022, Thompson and the national negotiating team successfully changed Article 33 in the National Master Automobile Transporters Agreement (NMATA) to allow for more carhaulers to get covered under the national contract. Now, Teamster carhaulers have an opportunity to join thousands of members across the country and gain countless protections thanks to the new and improved NMATA.
"We went into negotiations with a vision to get more of our members covered under the national agreement. That vision has become a reality," Thompson said. "The Carhaul Division has turned a corner and charted a new direction for the industry and the union because of the changes we made to the NMATA."
In less than a month, nearly 100 Teamster carhaulers at Priority Yard and Train (PYT) in Buffalo, N.Y., Lordstown, Ohio, and Kansas City have gained the protection of the national contract. At each location, members united to win significant wage increases, excellent union health care, and a defined Teamster pension plan.
"This is a novel way for the Teamsters to recapture our strength in this industry, starting with the yards we already represent," Thompson said. "We're getting more members into strong pension and health care plans by getting them covered under the national contract."
Winning Streak
The string of victories began in Buffalo, where Local 449 members at PYT had been under a white paper contract with the company's former owner, Transport Logistics Company (TLC). In January, the 16-worker group of rail loaders became the first new signatories of the 2022-2025 NMATA.
"The new language in Article 33 made this all possible by allowing us to bargain a 'ramp up' rider with the company. This victory is the first of many, and it's only the beginning. We believe this will lead to more organizing opportunities at railheads and plant sites around the country," said Assistant Carhaul Division Director Jeff Brylski, who also serves as President of Local 449 in Buffalo. "This is a massive win that will impact a lot of people. It's lifechanging for these guys."
After Buffalo, the wins kept coming. Local 377 members at PYT followed suit a few days later in Lordstown, Ohio.
"We are very excited to see all the hard work pay off for our carhaul members. It's a rare feat to add members from other companies into a master agreement, but the Teamsters are leading the industry and forging a new path for carhaulers nationwide," said Local 377 President and Business Agent Steve Anzevino. "Our members couldn't be happier."
On Feb. 15, more than 50 members at Local 41 in Kansas City became the latest group of PYT workers to get covered under the national contract. They are now the recipients of countless workplace improvements.
"This is an important win that shows how locals and the International can make a major difference in workers' lives. Teamster carhaulers are united and bringing pride back to this industry. We are proud to represent them," said Matt Daniel, President of Local 41.
Reclaiming Roads
The NMATA is the oldest national contract in the Teamsters Union and has helped pave the way for every other master agreement in the union. For over 60 years, it has set the standard for workers in the carhaul industry. But the industry has changed drastically in the past two decades and, in recent years, Teamsters were struggling.
In 2022, General President Sean M. O'Brien and General Secretary-Treasurer Fred Zuckerman took office and immediately revamped the Carhaul Division. They appointed Thompson and Brylski, who got straight to work preparing for negotiations. The previous national agreement had been extended during the pandemic and was set to expire at the end of May 2022.
"We have 30 days to get this done. If we don't have a contract by May 31, our members won't be on the roads hauling, they'll be on the streets striking," O'Brien said at the proposal meeting last April.
"The past few years have been trying times for workers in the carhaul industry," said Zuckerman, who is also a former Teamster carhauler. "We are going to be militant and vigilant when it comes to raising standards and rebuilding this core Teamster industry.
The militancy worked. Six weeks later, the most lucrative carhaul contract in Teamster history was reached. After members overwhelmingly voted for ratification, Thompson and his team began working on a plan to bring more members into the NMATA and launched a new organizing campaign to rebuild union density.
"The NMATA has provided us with a new organizing model and an opportunity to grow our numbers like never before. These wins will help strengthen our bargaining power and provide countless improvements for our members," Thompson said.
Local 377 Secretary-Treasurer Ralph "Sam" Cook agrees. After years of representing Teamster carhaulers, he says members are relieved to be covered under the national agreement.
"Our members are feeling the strength and unity of the O'Brien-Zuckerman administration, and they couldn't be happier to have gained the protection of the NMATA," Cook said. "I applaud Director Thompson and his team for restoring pride and hope for Teamsters in the carhaul industry."
The new NMATA continues to pay off in ways Teamster carhaulers could have never imaged just a year ago. Members in Buffalo, Lordstown, and Kansas City say they are already feeling the improvements of the new NMATA.
"The Carhaul Division is back, and I've never been prouder to be a Teamster," said Charles Foreman, a 19-year member of Local 41 who works at Priority Yard and Train. "We are glad to join with thousands of carhaulers across the country under this strong national contract. It's a relief to be covered with such protections."
« Previous
Next »