Republic Services Workers in Arizona Join Teamsters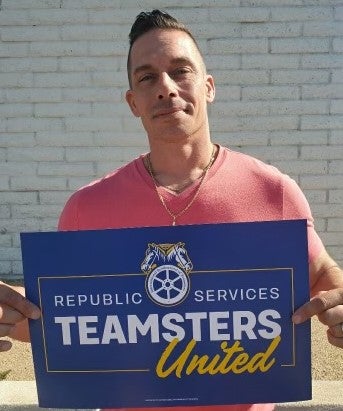 Teamsters Continue to Grow Membership in Waste Giant's Backyard
Press Contact: Daniel Moskowitz Phone: (770) 262-4971 Email: dmoskowitz@teamster.org
(PHOENIX) – Workers at Republic Services have voted overwhelmingly for representation with Teamsters Local 104 in Phoenix. The 60 workers include full-time and part-time drivers, operators, compactors, and scale clerks at the Cave Creek Transfer Station in North Phoenix. They seek higher pay, affordable health care, better working conditions, and respect.
This is the second group of Arizona workers at the company to join the Teamsters in the past year. In October, 116 drivers and support staff at another Republic Services facility in Phoenix voted to become Teamsters. Local 104 has filed for a union election for a third group of workers employed by the company in Mesa.
"Workers sent a strong message to Republic Services this morning," said Dan Meyer, a Republic Services driver who served on the worker-led organizing committee. "Today's vote reflects our commitment to improving our workplace. We are proud to be Teamsters and thankful to finally have a voice on the job."
Despite a nasty union-busting effort by the company, Meyer said he and his co-workers were determined to gain Teamster representation.
"We are going into negotiations to get the best contract for our new members. If Republic's CEO can make over $15 million in compensation last year, then this company can afford to treat its workers better," said Josh Graves, Local 104 Vice President.
Headquartered in Phoenix, Republic Services [NYSE: RSG] is the second-largest trash collection and landfill company in America.
The International Brotherhood of Teamsters represents more than 7,000 workers at Republic Services in the U.S.
"We are thrilled to have back-to-back organizing wins in Republic's backyard. Workers in Arizona were tired of the disrespect. It's the same story all across the country. Republic workers are fed up and know that the only way to make things better is by becoming Teamsters," said Chuck Stiles, Director of the Teamsters Solid Waste and Recycling Division.
Founded in 1903, the International Brotherhood of Teamsters represents 1.2 million hardworking people in the U.S., Canada, and Puerto Rico. Visit Teamster.org for more information. Follow us on Twitter @Teamsters and "like" us on Facebook at Facebook.com/teamsters.
« Previous
Next »