Teamsters Strike at INEOS Factory in Ohio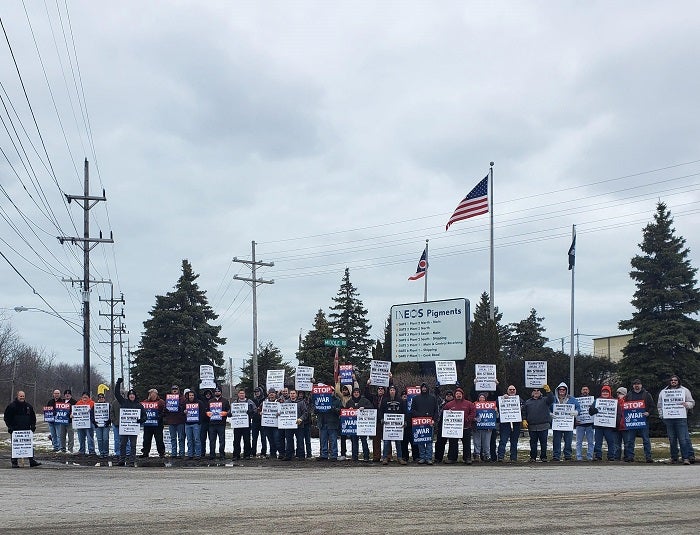 Workers Demand Company Stop Intimidation Tactics, Negotiate Fair Contract Now
Press Contact: Sam Cook Phone: (330) 743-3111
(ASHTABULA, Ohio) – On Sunday, March 12, workers represented by Teamsters Local 377 and Local 1033C of the International Chemical Workers Union Council walked out on an unfair labor practice strike at INEOS Pigments' production facility in Ashtabula. The Teamsters and Chemical Workers are demanding that the company and its founder, British billionaire Sir Jim Ratcliffe, stop violating U.S. labor law.
Workers at the Ashtabula facility say the company is intimidating workers who are involved in union activities, denying workers their right to collectively bargain, and failing to provide safe working conditions.
"The workers at INEOS have been pushed to the brink by the company's unlawful practices," said Sam Cook, Secretary-Treasurer of Teamsters Local 377. "Rather than bargain in good faith, this notoriously anti-union company has decided to use stall tactics to avoid negotiating a first contract. We stand with our members in their fight for justice and fairness."
In September 2021, INEOS Pigments employees at Plant 2 in Ashtabula voted to form a union after the company eliminated workers' pensions, increased the cost of family health care by over $100 per week, and began utilizing under-trained subcontractors to perform work at the facility. Eighteen months later, the workers still do not have a contract.
The INEOS factory in Ashtabula is one of the largest employers in the area, with over 400 workers. The company produces titanium dioxide, a key ingredient in many products, including paint, plastics, and paper.
"Our members refuse to let INEOS treat them as expendable labor. INEOS owes its success to these employees, and they will not tolerate the company's continued violation of labor laws," said Ron Moore, International Representative of the International Chemical Workers Union Council of the UFCW, Local 1033C.
In addition to its global work with chemicals, oil, and gas, INEOS is preparing to introduce a new all-terrain vehicle, the Ineos Grenadier, into the U.S. market.
"We are putting car dealerships across the country that are considering selling and servicing the Grenadier in North America on notice," Cook said. "We will be at their dealerships to inform the public about what INEOS is doing to American workers."
« Previous
Next »