Teamsters Blast Yellow Corp.'s Baseless Lawsuit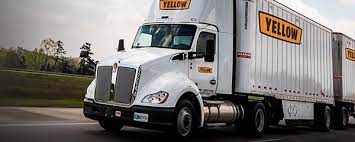 Union Calls Out Freight Company for False Claims and Gross Mismanagement
Press Contact: Daniel Moskowitz Phone: (770) 262-4971 Email: dmoskowitz@teamster.org
(WASHINGTON) – The Teamsters Union categorically denies the baseless allegations made by Yellow Corporation in its frivolous lawsuit filed today.
"Yellow Corp.'s claims of breach of contract by the Teamsters are unfounded and without merit," said Teamsters General President Sean M. O'Brien. "After decades of gross mismanagement, Yellow blew through a $700 million bailout from the federal government, and now it wants workers to foot the bill. For a company that loves to cry poor, Yellow's executives seem to have no problem paying a team of high-priced lawyers to wage a public relations battle—all in a failed attempt to mask their incompetence."
The Teamsters have diligently adhered to the terms of the collective bargaining agreement (CBA) signed with Yellow Corp., fully honoring its contractual commitments and obligations.
"The company is misleading our members and the public. We have a contract with Yellow that expires March 31, 2024, and Teamsters are living up to it. Yellow's management knows they've failed this company and their workforce because they can no longer live up to the terms they once agreed to. This lawsuit is a desperate, last-ditch attempt to save face," said Teamsters General Secretary-Treasurer Fred Zuckerman.
The lawsuit by Yellow Corp. is a blatant attempt to undermine the rights of workers and discredit the Teamsters. The Teamsters are fully prepared to defend the union's position vigorously and utilize all available legal resources to challenge the meritless accusations put forth by Yellow Corp.
Founded in 1903, the International Brotherhood of Teamsters represents 1.2 million hardworking people in the U.S., Canada, and Puerto Rico. Visit Teamster.org for more information. Follow us on Twitter @Teamsters and "like" us on Facebook at Facebook.com/teamsters.
« Previous
Next »