Teamsters Amazon Strike Expands to Atlanta Area Warehouse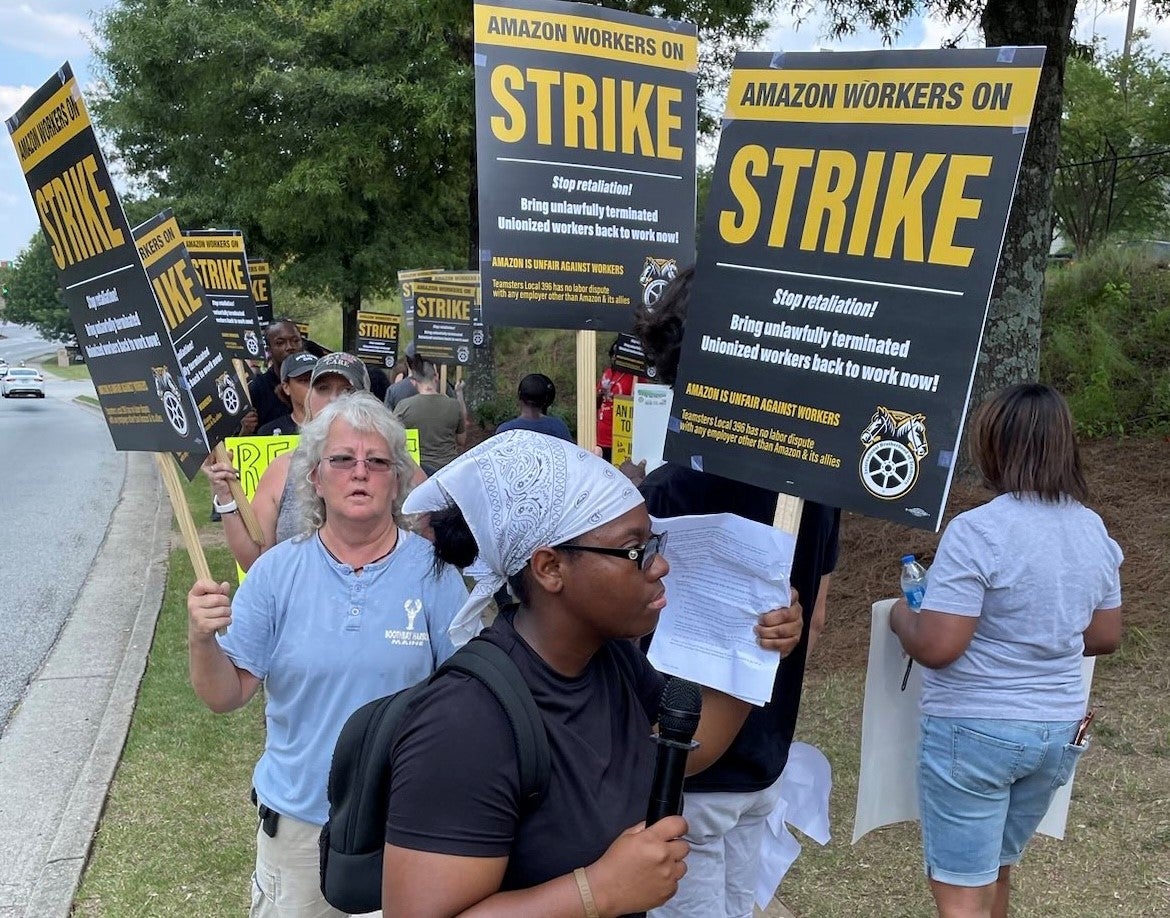 Teamsters and Community Support ATL6 Amazon Workers as They Rally Over Warehouse Conditions
Press Contact: On site: Jessie Moreno Phone: ‪(347) 762-0778‬‬‬‬‬‬
Press Contact: Kara Deniz Phone: (202) 497-6610 Email: kdeniz@teamster.org
(EAST POINT, Ga.) — Striking Amazon delivery drivers and dispatchers from Palmdale, Calif., extended their picket line to an Atlanta area warehouse (ATL6) today, to demand the e-commerce giant stop its unfair labor practices. The growing strike will continue until Amazon reinstates the unlawfully terminated Palmdale employees, recognizes the Teamsters, respects the contract negotiated by the workers, and bargains with the Teamsters Union to address low pay and dangerous working conditions.
"We do the same job as other package delivery drivers, but Amazon pays us half as much," said Tom Culver, a striking driver from Palmdale who traveled to Georgia for the picket. "We are taking our strike across the country to stop Amazon's unfair labor practices and to force the company to negotiate a contract that treats its drivers fairly."
Amazon drivers and dispatchers began their unfair labor practice strike at an Amazon delivery station in Palmdale, Calif., on June 24. They have picketed 10 Amazon warehouses around the country during their month-long strike, including facilities in California, New Jersey, Connecticut, Massachusetts, Michigan, and now Georgia.
Before picketing the Georgia warehouse, the Palmdale strikers rallied with local Amazon warehouse workers demanding that Amazon address poor working conditions at the ATL6 warehouse. They were also supported by Georgia Teamster members and community allies.
"Since this strike started on June 24, these Amazon workers have remained united in pursuit of fair pay and safe jobs," said Victor Mineros, Secretary-Treasurer of Teamsters Local 396 in Los Angeles. "Despite Amazon's illegal refusal to recognize their union or engage in bargaining, the community and fellow workers in this industry have consistently shown unwavering support. Millions of Teamster members stand shoulder to shoulder, with firm resolve, supporting their brothers and sisters at Amazon. Together, we are resolute in holding this corporate criminal accountable for its treatment of their workers."
The 84 workers in Palmdale joined Teamsters Local 396 and bargained a contract with Amazon's Delivery Service Partner (DSP), Battle-Tested Strategies (BTS), in April. Despite the absolute control it wields over BTS and workers' terms and conditions of employment, Amazon has refused to recognize and honor the union contract. Instead, Amazon has engaged in dozens of unfair labor practices in violation of federal labor law, including terminating the entire unit of newly-organized workers.
"I've been chased by dogs. I've been sent to deliver in the desert with two bottles of water. All for the packages that Amazon puts ahead of our safety," said Jessie Moreno, another striking driver who traveled to Georgia to extend the Palmdale picket line. "We organized a union because we deserve to be treated like human beings. We are going to win the good jobs that our families need."
Amazon drivers in Palmdale organized with the Teamsters to protect their safety in extreme temperatures, which regularly exceed 100 degrees Fahrenheit during Palmdale summers. Their Teamster contract guarantees the rights of workers to drive safe equipment and refuse unsafe deliveries. Making the contract's protections a reality will require an overhaul of Amazon's exploitative labor practices.
Founded in 1903, the Teamsters Union represents 1.2 million hardworking people in the U.S., Canada, and Puerto Rico. Visit Teamster.org to learn more and follow us on Twitter @Teamsters and on Facebook at Facebook.com/teamsters.
« Previous
Next »