Teamsters Condemn Gavin Newsom's Anti-Worker, Anti-Progress Veto Spree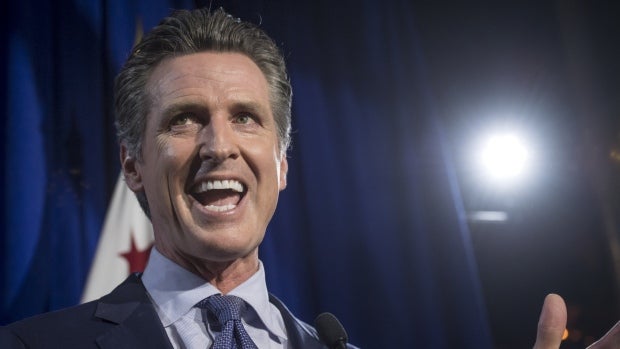 California Governor Spends Legislative Session Obstructing Worker Empowerment
Press Contact: Matt McQuaid Phone: (617) 894-0669 Email: mmcquaid@teamster.org
(SACRAMENTO, Calif.) – Following a legislative session where he vetoed a multitude of bills that would have improved worker's rights, occupational safety, and financial security for the middle class, the Teamsters are condemning California Gov. Gavin Newsom for making life harder for working families in the nation's most populous state.
"The way Gavin Newsom reacted to a vast majority of the pro-labor bills that came before him this year is something that we would expect to see from a governor who got elected with support from the Koch brothers – not someone who received support from organized labor," said Jason Rabinowitz, President of Teamsters Joint Council 7. "Being a pro-union governor doesn't mean you stand with us when it's convenient. It means you stand with organized labor when it counts, which is when it's time to sign pro-union legislation."
The worst veto for good-paying careers in transportation was AB 316 — legislation that would have required a human operator in any vehicle over 10,000 pounds. In addition to being a priority for the Teamsters, the bill was incredibly popular. Over 90 percent of the state legislature voted in favor of it, and public polling shows that nearly three-fourths of Californians across party lines, gender, geography, and all other demographics support AB 316 — unsurprising data given that collisions and accidents with self-driving vehicles continue to occur.
In addition to AB 316, other pro-worker legislation that Newsom vetoed includes:
AB 504 — would have banned employers from disciplining or taking any other adverse action against public employees for honoring picket lines or other strike activities;
SB 686 — would have required that all household domestic service employers comply with and adhere to all applicable occupational safety and health regulations by January 1, 2025, and remove the exemption of domestic workers from safety and health laws;

SB 799 — would have enabled union members who were either on strike or locked out by their employer to collect unemployment insurance benefits (New York and New Jersey both allow this);
SB 725 — would have required a successor grocery employer to provide an eligible grocery worker a dislocated allowance equal to one week of pay for each year of employment;

SB 627 — would have required an employer, following the shutdown of a chain or franchise location, to provide laid off workers the opportunity to transfer to another site within 25 miles of the closed business;

AB 575 — would have expanded eligibility for Paid Family Leave (PFL) benefits to include workers who take time off from work to bond with a child that they are acting as the legally-recognized primary caregiver for. AB 575 would have also removed a restriction that allowed only one family member at a time to access PFL, as well as a provision that allowed employers to make workers use up to two weeks of vacation time prior to accessing PFL;

AB 1123 — would have required the California State University (CSU) system to grant workers a leave of absence with pay for one semester of an academic year, or an equivalent duration in a one-year period, following the birth of a child or in connection with the adoption or foster care placement of a child by the CSU worker;
SB 751 — would have prohibited franchise agreements for solid waste services from containing provisions that excused a service provider from complying with the agreement in the event of a work stoppage associated with a labor dispute;

AB 699 — would have expanded occupational safety protections to lifeguards employed on a full-time basis in the Boating Safety Unit by the City of San Diego Fire–Rescue Department;
AB 1145 — would have expanded worker's compensation benefits for certain nurses, psychiatric technicians, and various medical and social services specialists employed by the Department of Corrections and Rehabilitation, the State Department of Developmental Services, and the State Department of State Hospitals.
SB 640 — would have required any food service contract or hotel development project undertaken by the CSU Board of Trustees to be with employers signatory to labor peace agreements; and
SB 90 — would have prohibited health plans from imposing a copayment of more than $35 for a 30-day supply of an insulin prescription drug.
"Gavin Newsom wants to act like he's both an ally of labor and an ally of Big Business," said Chris Griswold, Teamsters International Vice President At-Large and President of Teamsters Joint Council 42. "The last thing America needs right now is more politicians who are friendly with Big Business. What we need is something that's in short supply: elected officials who are going to stand up for workers."
Founded in 1903, the Teamsters Union represents 1.2 million hardworking people in the U.S., Canada, and Puerto Rico. Visit Teamster.org to learn more and follow us on Twitter @Teamsters and on Facebook at Facebook.com/teamsters.
« Previous
Next »