Teamsters, Community Groups Unite to Protest at Waymo L.A. County Launch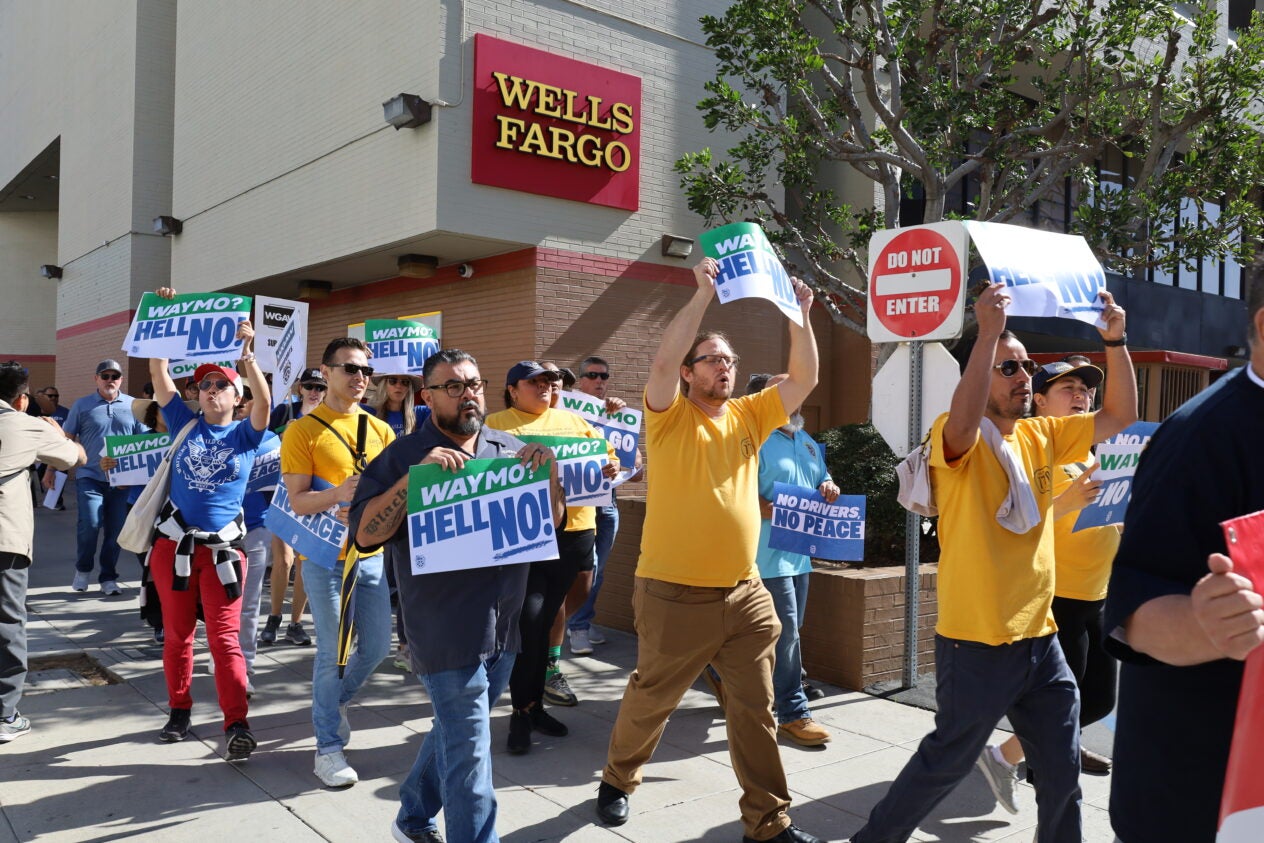 Angelinos Demand Accountability from Big Tech
Press Contact: Matt McQuaid Phone: (202) 624-6877 Email: mmcquaid@teamster.org
(SANTA MONICA, Calif.) – The Teamsters, in collaboration with community groups and concerned citizens, joined forces to protest the launch of Waymo self-driving cars in Los Angeles County at the Third Street Promenade on Wednesday. The rally comes in response to mounting concerns about the safety and impact of untested autonomous vehicles (AVs) on public streets, which has already led to traffic jams and accidents in other cities across the United States, including San Francisco and Austin, Texas.
"We cannot allow the unchecked deployment of untested technology on our roads," said Chris Griswold, President of Teamsters Joint Council 42. "Our priority is safety and the protection of jobs. We urge all local elected leaders in L.A. County to hold companies like Waymo accountable by ensuring that this technology is thoroughly tested and regulated before more damage is done to our communities, as we have seen in other regions of the country."
The protesters chanted "Waymo? Hell no!" and distributed leaflets to the public informing them of the dangers posed by driverless cars and trucks. The launch of Waymo in L.A. County is a cause for alarm, as the region faces unique challenges and complexities with traffic, infrastructure, and pedestrian safety. The absence of comprehensive testing and regulation further raises concerns about AV deployment on crowded and bustling streets in the nation's most populous county.
"As a professional delivery driver in Los Angeles, I am aware of how hectic it can get on our streets, and how split-second decisions made by human drivers can save lives," said Jared Hamil, a UPS package car driver and member of Teamsters Local 396. "The roll-out of driverless vehicles on city streets puts our lives and the communities we serve at risk. We need more accountability to ensure that L.A. residents are safe."
"As a firefighter for 31 years, vehicle accidents are one of the toughest incidents I respond to. Witnessing the horrific wreckage that these tragic events cause is heartbreaking," said Frank Lima, General Secretary-Treasurer of the International Association of Fire Fighters. "I have dedicated my career to saving lives, and that is why I am very concerned about this new technology. It's clear that driverless cars and trucks pose a safety concern, not just for firefighters but for our entire community. Cities across California are already paying the price with multiple traffic accidents – not to mention driverless vehicles interfering with fire trucks and other emergency vehicles. Elected leaders throughout Los Angeles need to do the right thing and put the safety of our communities first. They must ban driverless cars and trucks."
This protest follows Gov. Gavin Newsom's recent veto of AB 316, a bipartisan bill supported by the Teamsters, other California labor unions, and more than 90 percent of state legislators in Sacramento. The veto runs contrary to the wishes of Newsom's constituents, given that three out of four Californians support human operators in driverless vehicles. Teamsters view the Governor's decision as an attack on middle-class jobs, motorist safety, and the responsibility of elected officials to do right by the people they represent.
Teamsters Joint Council 42 represents more than 160,000 workers throughout Southern California, Nevada, Hawaii and U.S. Territories. For more information, go to teamstersjc42.com.
« Previous
Next »