Teamsters Support Starbucks Workers on Strike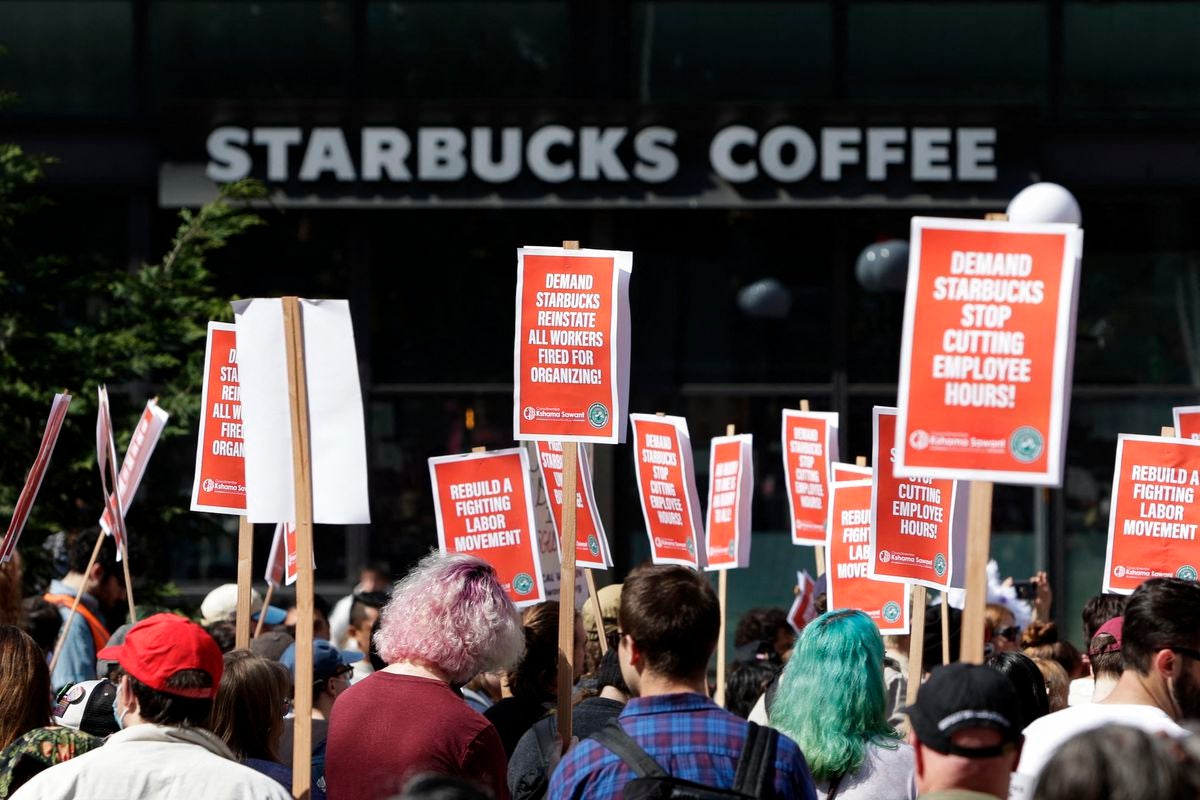 Locals and Joint Councils Nationwide to Stand in Solidarity
Press Contact: Kara Deniz Email: kdeniz@teamster.org
(WASHINGTON) — The International Brotherhood of Teamsters is strongly encouraging its Joint Councils and local unions nationwide to stand in solidarity with Starbucks Workers United during unfair labor practice strikes scheduled for Thursday, Nov. 16.
The Teamsters Union represents workers throughout the supply chain who make Starbucks' overall operations possible. With 1.3 million members at more than 360 local affiliates, Teamsters perform critical work in a variety of trade divisions, including food processing, warehousing, the dairy industry, and transport and delivery logistics.
"The Teamsters Union is proud to encourage all of our affiliates to stand with Starbucks workers," said Teamsters General President Sean M. O'Brien. "Starbucks' Board and executives can only ignore the collective voices of thousands of Starbucks workers for so long. This is what happens when greedy CEOs deny workers a contract and union bust. You get a Red Cup Rebellion."
"Starbucks workers across America saw the power of the unified Teamsters victory at UPS this year. We are deeply honored to feel the strength of their solidarity as partners opposing unfair labor practices during our Red Cup Rebellion across America on November 16 and beyond," said Lynne Fox, International President of Workers United.
Starbucks Workers United has organized more than 9,500 workers at 368 stores across 42 states over the past two years. Starbucks workers will be conducting unfair labor practice strikes at close to 200 stores, nearly twice as many as last year's Red Cup Rebellion. Workers and customers at hundreds more stores will learn more about how to join this movement on Thursday in one of the largest expansions of the campaign to date. Learn more at sbworkersunited.org.
Starbucks Workers United is a campaign of Workers United, an affiliate of the Service Employees International Union, which represents 80,000 members in multiple economic sectors in the U.S. and Canada. Learn more at workersunited.org.
Founded in 1903, the International Brotherhood of Teamsters represents 1.3 million hardworking people in the U.S., Canada, and Puerto Rico. Visit Teamster.org for more information. Follow us on Twitter @Teamsters and "like" us on Facebook at Facebook.com/teamsters.
« Previous
Next »