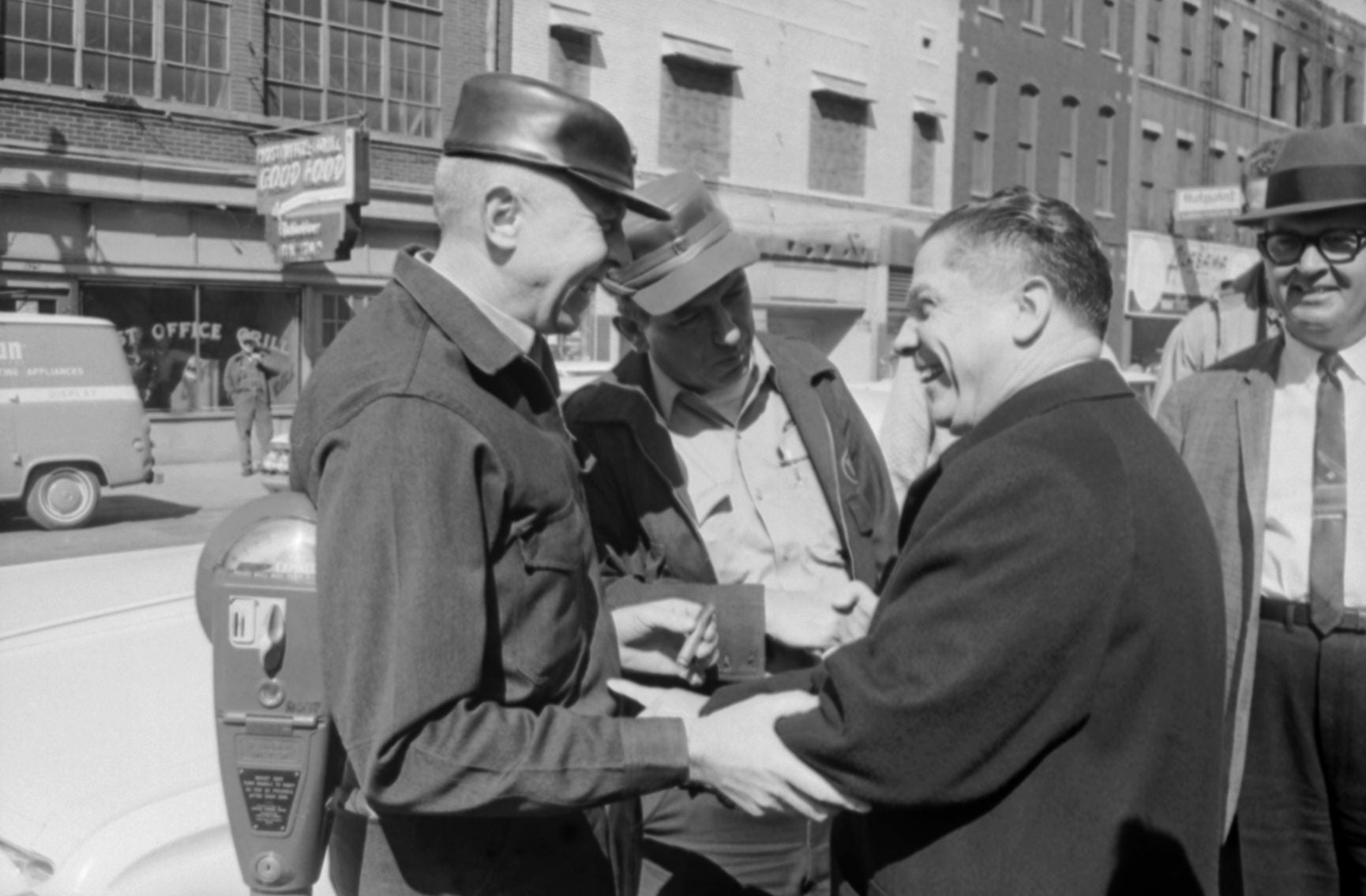 James R. Hoffa served as the union's General President from 1957 to 1971.
Hoffa was born on February 14, 1913, in Brazil, Ind. He began his working life at an early age in order to help support the family following the death of his father in 1921. He was keenly aware that his father's death was directly related to the working conditions on the job in the town's coal mines and never forgot the pain and hardships it caused. Hoffa began taking on odd jobs and continued this practice when he moved with his mother and three siblings to Detroit in 1924.
He was initiated into the labor movement in his teens when he took on full-time work as a warehouseman for Kroger grocery stores. It was there in 1932, angry over poor working conditions and unfair treatment of employees, that Hoffa led fellow workers in a successful strike against the company. He was just 19 years old.
Hoffa's activities caught the attention of the Teamsters. He joined the union in 1933 and quickly rose through the ranks, becoming a business agent for Local 299 in Detroit that same year. By 1937, he was elected President of the local and continued to strengthen his leadership abilities by forming the Michigan Conference of Teamsters in the early 1940s. He was a tireless organizer for the union and champion of labor concerns. He even met his wife, Josephine, when she was on strike against the company where she worked.
His natural skills and easy rapport with rank-and-file workers broadened his popularity throughout the Central region, earning him a position as Trustee on the General Executive Board in 1947, and election to the board as a Vice President in 1952. Hoffa was elected General President at the national convention in 1957.
As General President, Hoffa developed a well-earned reputation among his peers as a tough and effective bargainer. He continued to work hard to expand the number of working men and women who were protected by union contracts. Under his leadership, the union's membership rose to include more than 2 million workers.
His crowning achievement was the 1964 National Master Freight Agreement, which united more than 400,000 over-the-road drivers under one contract. Congressman Elmer Holland (D-PA) was quoted as saying, "Jimmy Hoffa has put more bread and butter on the tables for American kids than all his detractors put together."
Hoffa's devotion to the Teamsters and their families is legendary. His whole life was dedicated to bettering the lives of all working families and he was a leading advocate in the war on poverty.
"While working men and women have long known the value of a dollar—it is a lesson well taught to one who labors for a living—it has taken a long, long time to teach employers the value of a human being, and in many cases has not yet been successfully taught," he said in 1964. "Few give thought to what happens to displaced workers, but they can analyze to the penny what the profits will be."
He was ahead of his time in many ways. He pushed for civil rights, supporting a young Martin Luther King Jr. and other activists years before they gained national attention. He refused to condone segregated local unions, even at the cost of losing organizing campaigns in the South. "If they want segregation, we don't want them," he said. "We pride ourselves on the fact there are no Jim Crow locals in our union."
Understanding the importance of a strong political voice for the union and the creation of an active, educated working class, in 1959 Hoffa developed the Democratic, Republican, Independent Voter Education project (DRIVE) to promote political activism in the union. He also clearly understood the importance of organizing as the lifeblood of the union and the foundation for those political activities. "Organize. Organize some more. It is the way we can show the powers that be that they are not going to take away our wages, hours and benefits. Our voice will be too loud and strong to ignore," he said in 1965.
Hoffa never became immune to the needs of working families even when he reached the pinnacle of union leadership. His ceaseless work on behalf of laborers here and abroad elicited unabashed feelings of respect, admiration and loyalty from workers everywhere that are still alive today.
Inducted into Labor's International Hall of Fame in 1999, his memory and achievements are also celebrated through the James R. Hoffa Memorial Scholarship Fund, which awards scholarship grants to the children of Teamster members.