Old Dominion Teamsters Demand Warner Co-Sponsor PRO Act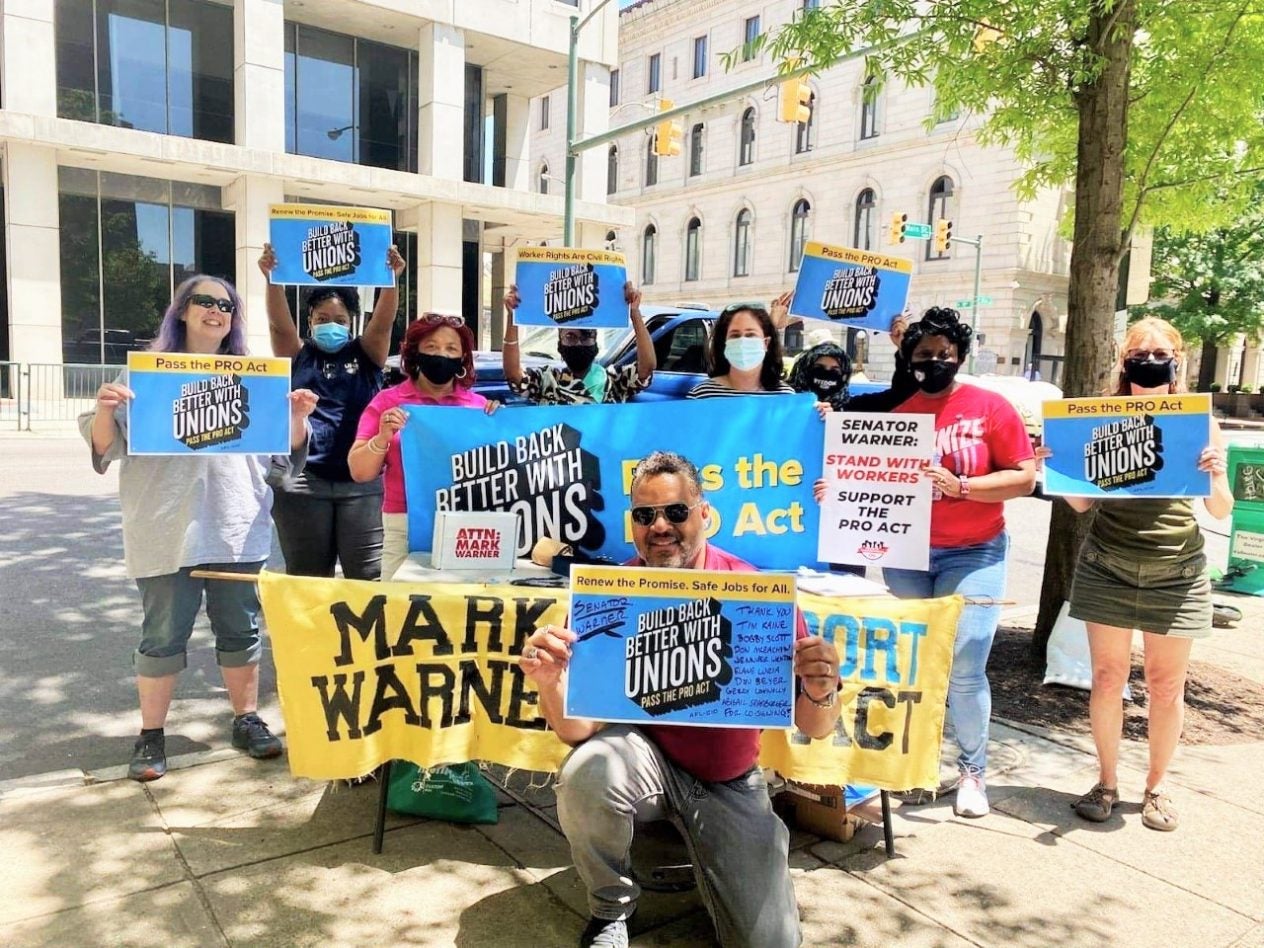 Virginia Teamsters are joining with other unions and labor allies to keep the heat on Sen. Mark Warner (D-Va.), who is one of the few Democrats in the Senate who have yet to co-sponsor the Protecting the Right to Organize (PRO) Act.
Last week, protestors gathered outside Warner's office in Richmond and near his home in Alexandria to call on the three-term senator to support the legislation, which would build on protections for workers and unions, giving them more power at the bargaining table and imposing more meaningful penalties on employers who violate the law. The House approved the bill in March.
"We have to get the PRO Act passed, and he is one of the few that haven't signed onto it," said Brian Peyton, President of Local 322 and political coordinator for Joint Council 83.
Events in both the state capital and in Northern Virginia have been ongoing since last month and are expected to continue until Warner signs onto the PRO Act. Locals 171, 322, 592, and 822, have used a variety of tools to notify their memberships about the importance of the PRO Act and Warner's position. In addition to attending rallies in person, Teamsters are emailing and calling Sen. Warner's office urging support for the bill.
The legislation increases penalties on employers who break the law and gives workers a private right of action if they've been terminated for union activity. It prohibits the use of coercive activities like captive audience meetings and establishes a process for mediation and arbitration to stop stalling tactics at the bargaining table and help parties achieve a first contract.
Importantly, the bill addresses rampant intentional misclassification under the National Labor Relations Act (NLRA) and ensures that misclassified workers are not deprived of their right to form a union. It also would crack down on bad actors by streamlining procedures to grant swift solutions to workers. And it would update the NLRA to make it to apply to today's 21st century workforce.
Jennifer Hancock, Local 322's political coordinator, helped kick start the Teamsters' involvement in the protests by expanding the events to Richmond after they initially started in Alexandria. Last week, demonstrators distributed postage-paid post cards to the public asking them to send them to Warner in an effort to spur him to sponsor the PRO Act.
"The whole point of this is to show Mark Warner that there is a whole swath of Virginians who care about this," Hancock said.
Nick Jones, Local 822's political coordinator, said Teamsters in the Hampton Roads region of the state have also been active. They've texted membership about the issue and joined a May 1 rally in Norfolk with other unions in support of the PRO Act. And members plan to travel to Richmond in early June to rally outside Warner's office and call on him to take action.
"For many years, Virginia has been looked at as a red-to-purple state," he said. "Now we are trending toward blue, and business is doing well. It's time to recognize the workers."
« Previous
Next »