Building Momentum in the Waste Division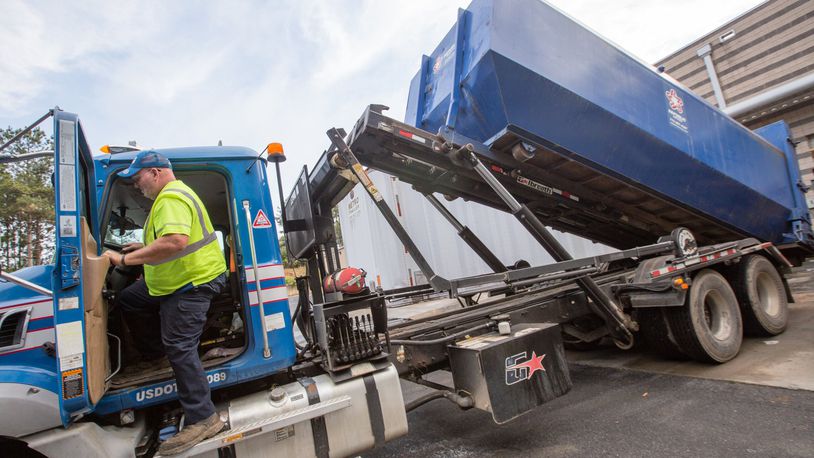 Waste Division Capitalizes on Militant Approach
Six companies. 10 locations. 30 days. 1,000 members and counting.
That's the contract count for the Teamsters Solid Waste and Recycling Division since the O'Brien-Zuckerman administration took office less than a month ago.
"As soon as the new administration took office, we noticed a dramatic difference in negotiations throughout the industry," said Chuck Stiles, Director of the Teamsters Solid Waste and Recycling Division. "It's been non-stop success at the bargaining table nationwide, even in locations where negotiations had stalled. The companies realize that this is a more militant union now. They know they're on notice."
The Teamsters' winning streak kicked off March 27 in Rhode Island, where 60 workers at two Stericycle-owned businesses—represented by Teamsters Local 251—overwhelmingly ratified their respective first contracts after more than a year of hard-fought negotiations.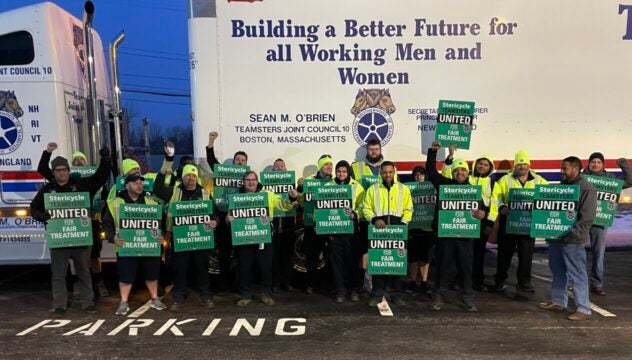 "We weren't afraid to make our voices heard, and we are proud to have taken a brave stand during negotiations," said Chris LaFlamme, a 23-year Shred-it driver. "The need for a strong contract was never lost on any of us. That's why we never wavered, despite the company's slow pace during negotiations. This agreement reflects our strength and solidarity. My co-workers and I are proud of what we have accomplished with this first contract, and we are thrilled to finally have true protection on the job."
Local 251 wasn't the only contract victory that weekend. More than 4,000 miles away, in Simi Valley, California, 200 workers at Waste Management, Inc. (WMI) overwhelmingly ratified a first contract at Local 186. Shortly after, Local 117 announced an agreement had been reached at Republic Services for workers in the Seattle area. Topping off the weekend, Local 50 secured an excellent agreement for a longtime unit at Republic Services in Southern Illinois.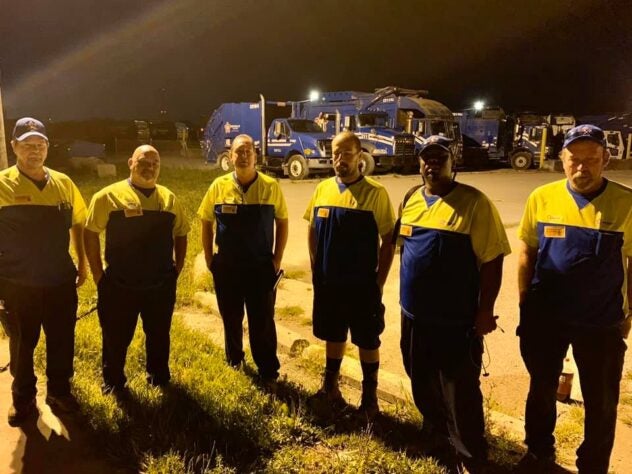 Spring Cleaning (Up)
Following the weekend wins in late March, momentum continued to grow. Seven dispatchers at Local 25 voted unanimously to ratify a new four-year contract at Republic Services on March 30, securing free health care coverage and entry into the New England Teamsters Pension Fund. Meanwhile, division representatives were back in negotiations, crisscrossing the country to wrap up new agreements at WMI in Manassas, Virginia (Local 639) and Republic Services in Crown Point, Indiana (Local 142). A week later, both contracts were ratified and being hailed by members as best-ever agreements.
"We knew what our goals were throughout the bargaining process. We were united throughout negotiations and determined to reach an agreement that would provide us with pension and health care coverage. We couldn't be happier to be covered under such an excellent plan," said Kenny Kwiatkowski, a five-year dispatcher at Republic Services and member of Local 25.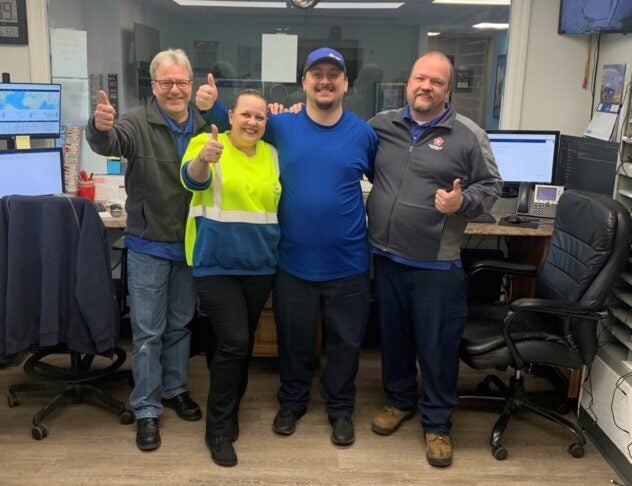 Kwiatkowski's sentiment was echoed by other workers. In most cases, clear goals were outlined by members from the outset of negotiations. There was also a running theme of member participation—a shared sense of pride for taking part in the process. For longtime units, like Republic workers at Local 50, committee members were prepared long before the bargaining process had begun, knowing each issue that needed to be addressed.
The workers' unity was also reflected in their overwhelming—often nearly unanimous—ratification votes.
"Our members took an active role in the bargaining effort. We took their ideas and voices to the company and battled through it. Everything in the agreement is a gain for workers," said Pat Nichols, President of Local 50. "The contract victory at Republic is a testament to the strong bond these workers have built over the years and the result of many years building at the bargaining table."
Most recently, in San Francisco, nearly 500 workers at Recology secured a five-year agreement with significant increases to wages and pension contributions. Local 350 members had prepared for a possible strike prior to reaching a deal, receiving the support of Teamsters General President Sean M. O'Brien and several members of the San Francisco Board of Supervisors. On April 4, the company came back with a new proposal with improvements across the board.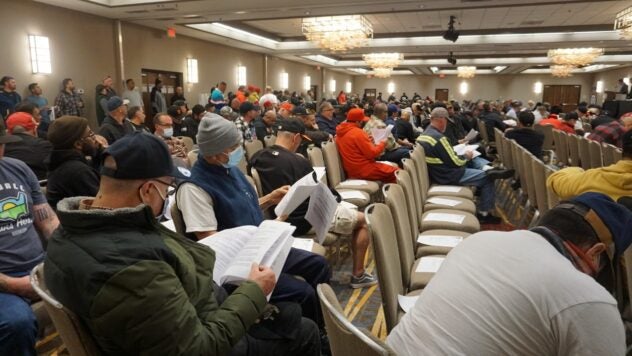 "We spent a lot of time listening to what everyone wanted and then we went to bat for them," said Dustin McDaniel, a nine-year garbage collection driver at Recology and Teamster shop steward. "Rank-and-filers felt strong going into the tail-end of negotiations, especially with the help of city supervisors, the mayor, the International and Local 350."
Taking on Big Trash
The Teamsters fight in the private waste industry reached new levels during the pandemic. While the companies showered their employees with praise in the public, the union was quick to expose the dirty truth. Profits were soaring at the expense of workers' health and safety.
"Between the COVID policies and the lack of PPE, our fight was constant and infuriating. Every day our members were risking their lives. Meanwhile, these companies are bringing in billions off the backs of workers, and we are still fighting with them in negotiations over every penny. It's a disgrace," Stiles said.
The pandemic has empowered and encouraged many nonunion waste workers to start organizing campaigns, like Liberty Tire Recycling drivers in Atlanta who reached out to Local 728 to bring change after decades of disrespect.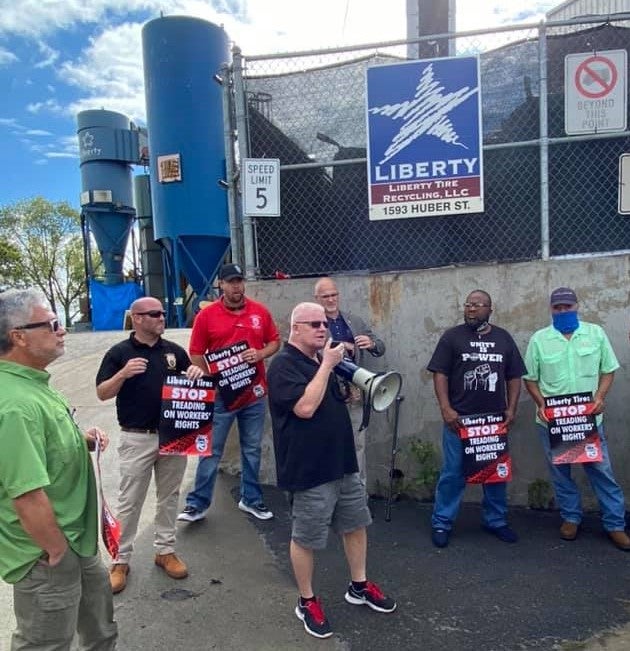 "We saw the strength of the union from the very start of the campaign. Since becoming a Teamster, I am reminded every day that our campaign is part of something bigger than ourselves. Together, we are a voice for justice," said Laba Mbengue, a 15-year driver at Liberty Tire Recycling and one of the lead members of the worker-led organizing committee. "The Teamsters have shown us that we are more powerful when we are united. We are nearly finished negotiating our first union contract, but the change is already taking place. We have already won respect."
Teamsters Step Up at Stericycle
The pandemic has made the need for a union more crucial than ever, especially at Stericycle, Inc., where workers dispose harmful medical waste from hospitals and medical facilities. In Fall 2020 the division launched a union-wide campaign to organize workers at Stericycle and its subsidiary Shred-it, Inc., organizing more than 200 workers in under a year in New Jersey, New York and Rhode Island.
"We wanted to make sure our first contract recognized the hard and dangerous work we perform every day at this company, especially throughout the pandemic. COVID-19 made our concerns all the more pressing, and the need for a union voice all the clearer," said Nate Monteiro, a 14-year Stericycle driver at Local 251. "We knew what we deserved, and we made sure the issues that mattered most to us were properly addressed. We stood strong to secure better wages, stronger health insurance, a more secure retirement and countless other improvements under the backing of a strong Teamster contract."
All Eyes on Republic
In the second year of the pandemic, workers took an even stronger stand. By Fall 2021, hundreds of Ohio workers at Stericycle (Local 20 and 377) and California workers at Republic Services (Local 396 and 542) took to the strike line, sending a strong message throughout the private waste industry.
At Republic Services, the Teamsters are battle-tested and ready for the next fight. The second-largest private waste company in the world is notorious for its mistreatment of workers and long history of anti-union behavior—and with more than 7,000 members employed by the company throughout the U.S., the next fight is never far away.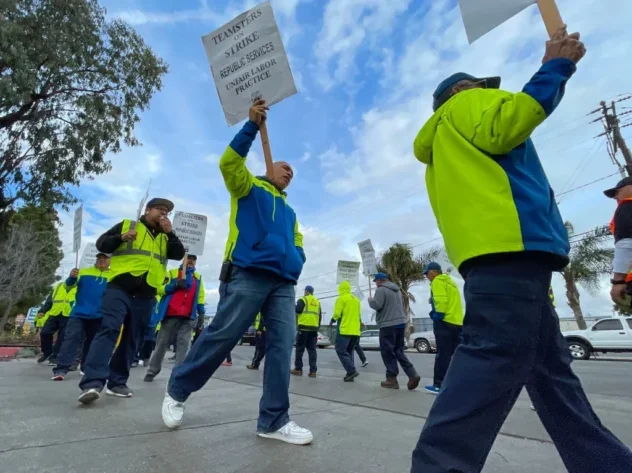 "When it comes to Republic, we can never take our eyes off the ball. Moving forward we are going to be more proactive and less reactive. When the company violates an agreement, we will hold them accountable. When it comes to contract negotiations, we will be steadfast in our demands. When it comes to organizing, we will be relentless and strategic. Building union density is key to keeping this company in check. Fortunately for us, the best organizing tool is a bad employer, and Republic is by far the worst actor on the corporate stage," Stiles said.
The company's poor labor relations hit a new low earlier this year with a series of missteps that include unfair labor practices committed during contract negotiations with Local 396; an Equal Employment Opportunity Commission (EEOC) charge from a manager in Georgia; and, a March 8 decision by the United States Court of Appeals upholding an arbitrators ruling that the company violated Ohio workers' collective bargaining agreement and awarding 17,837.76 in back pay to Local 20 members.
In 2020, Republic Services earned over $10 billion, with $1.2 billion in net profit. The company reported 15 percent growth in total revenue for 2021. Its CEO, Jonathon Vander Ark, earns over $12 million in annual total compensation.
"A lot of these large waste companies saw their bottom line get bigger than ever, in some cases triple, as a result of COVID. But they won't appreciate us until they have to go into their pockets and reward our members and pay them for their success," O'Brien said. "Waste is a core Teamster industry, and we are going to be more aggressive on every front. First and foremost, we are going to take on Republic Services. That means increasing our organizing efforts and bargaining hard at the table. We will strike if necessary."
UPDATE: On April 20, Local 350 ratified a new contract for 70 workers in the Bay Area at Cal Waste Solutions (CWS).
« Previous
Next »