Carhaul Contract Update: April 29, 2022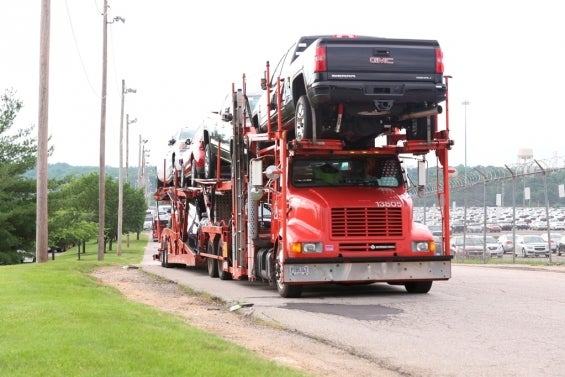 Carhaul Teamsters Exchange Proposals; Negotiations Scheduled for Next Week
The Teamsters Carhaul Division kicked off negotiations for a new National Master Automobile Transporters Agreement (NMATA) this week in Orange Beach, Ala. Led by International Vice President and Carhaul Division Director Avral Thompson, the Teamsters National Automobile Transporters Industry Negotiating Committee (TNATINC) met with representatives from Jack Cooper, RCS, Cassens and Active USA to exchange initial contract proposals on national language items.
The TNATINC discussed a wide variety of issues currently facing workers in the industry, including pay, health and welfare, safety, driver retention and working conditions.
"Our committee is made up of many faces—both local leaders and rank-and-file members—that have dedicated their working lives to this industry. This committee believes, and you should believe, that union carhaulers deserve better. Our proposals are very bold, but they are also very serious," Thompson told the companies. "The proposals we present today are from our members. They are united behind these proposals and determined to be successful in these negotiations. As I pass out and explain each proposal, before you say we can't afford to do it, ask yourself: Can you afford not to?"
In the lead-up to negotiations, the union launched a member-driven campaign to listen to the concerns of carhaulers throughout the country. Earlier this month, the Teamsters Carhaul Division put out a bargaining survey for members to provide feedback on the issues that mattered most in the new contract.
"Carhaul Teamsters have sacrificed a lot over the years, and they are more excited and united than ever to win a strong contract. They see the new direction our union is headed, and they want to be a part of it. Their activism and enthusiasm will be critical as we chart a new course for this industry," said Fred Zuckerman, Teamsters General Secretary-Treasurer and TNATINC member.
Thompson and Zuckerman both noted that the Teamsters are committed to negotiating a national contract that raises standards and improves driver retention throughout the carhaul industry.
"The negotiating committee is adamant in our goals and ready to bargain a contract that reflects the hard work our members bring as the most professional, most skilled carhaulers in the industry," Thompson said.
Negotiations are scheduled to take place next week, May 4 and 5, in Romulus, Mich.
The Teamsters Carhaul Division will continue to keep members informed in the days and weeks ahead. Stay tuned for more updates and visit the division page at www.teamster.org to learn more.
« Previous
Next »